DECA Freshman Blazes through the Competition
DECA freshman Rylie Sanvido places top 20 in the world at ICDC.
Freshman Rylie Sanvido placed top 20 in the world in her event, Principles of Finance at ICDC, the international conference for DECA members. Sanvido became the first soloist freshman in Conifer history to place as a finalist in an international competition. 
"That puts her in the top 1% of DECA competitors in the world," teacher Amber Hall said. "Very impressive as a freshman, and a lot of that is most of her own efforts she made in studying for the test and preparing for her role play."
After they had completed their events, the other DECA members on the trip went to Universal Studios for the day, but Sanvido had to stay at the convention center for a couple of extra hours to compete in the final round. 
"It was really fun and everything, the final round, it was definitely intimidating because all of these other kids had also made it to finals at an international conference," Sanvido said.
Sanvido's success this year was not limited to the international competition, however, as she also placed first in her event at the state competition in Colorado Springs.
"I tried my best and I was a little bit surprised I made it to finals because it was my first year," Sanvido said.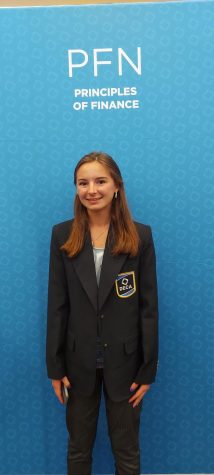 Sanvido is a part of the JV DECA program, and students in JV DECA are not required to take any business or finance classes with Hall, unlike Varsity DECA members. Despite this, Sanvido signed up to take an ethical leadership and marketing class this school year.
"We don't have a finance class specifically but she obviously has an interest in finance," Hall said. "I'm hoping that we find resources and mentors that help her explore that interest."
Next year Sanvido plans to take the leadership class for DECA, making her a Varsity member of the club. She also plans to compete in a wider range of events, exploring a written finance event or maybe an individual roleplay. 
"I'm just excited to get to know DECA more," Sanvido said.
Leave a Comment