For the first time in Conifer High School history, a female athlete has joined the football program. Freshman Abigail Leidel, cornerback and running back, was placed on the JV team. Her role in the program is unprecedented; it all started at a non mandatory weight lift at the end of last school year.
"I walked in and the room went dead silent," Leidel said.
Playing in a predominantly male sport as a woman does not come without its challenges. Leidel was alone at this first introduction to the Conifer team, feeling awkward around her new teammates. Leidel describes feeling isolated when the season first started as if there was a level of separation between herself and the other players.
She continued her journey into tackle football over the summer at preseason practices and a skills camp at Western Colorado University. Out of a large volume of participants, from a wide range of schools, Leidel was the female player present. The only other women at the game were a select few water girls. 
"When we went off into position work with a whole bunch of different schools I felt even more alone because there are…people who are bigger and faster and stronger than me, just judging me and making comments the whole time. That was terrifying," Leidel said. 
Being a female athlete in a male sport is not a common occurrence and over the course of her season, Leidel has had to deal with varying levels of confusion and prejudice from the different schools that they played. During some games, Leidel has described being passed up for high fives in the handshakes after games by opposing players. 
"I'm trying to let everything just roll off my back," Leidel said. "When I let things get to me it ruins the whole idea of me being there."
Leidel's journey with football started with her brother. Her brother, Braden Leidel, a 6th grader at West Jefferson and a player on the Predators (a club tackle team based in the mountain area), inspired Leidel to pursue football.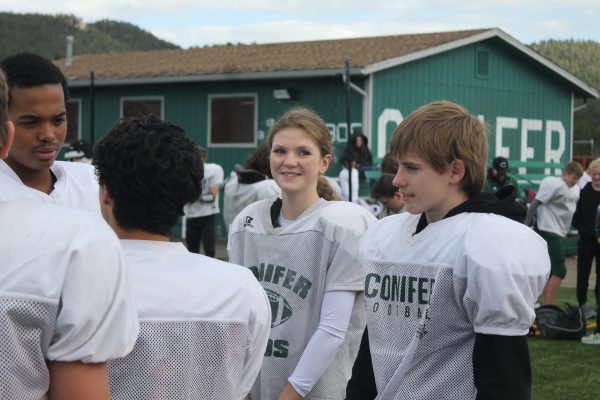 Her father signed her up after her brother's season had ended, and he along with her brother taught Leidel the rules two weeks prior to the beginning of her first season playing. Before joining the high school program she played on a flag team for a total of three seasons and two years.
"I've never been interested in very many other sports before and when I saw my brother playing footbal, I was like, that looks like a lot of fun," Leidel said. 
Before the high school season started, however, Leidel had to learn how to tackle, as it was an area of the sport that she had yet to experience. Once again her brother suited up and taught her the basics of tackling to prepare her for the season. 
Since then Leidel has been an active member of the team, playing both in a defensive and offensive role. She is a cornerback and also a running back, making her responsible for covering receivers, taking handoffs from the quarterback, and rushing the ball. In the future, Leidel plans to continue playing tackle football, hoping to eventually earn her way to Varsity.
"I want to get to the point where people look at me and instead of being like 'wow, it's impressive because she's a girl,' they say, 'wow, it's impressive because she has talent," Leidel said.