"People claw, they scratch at each other. You're always having hands on you or on other people, always being pushed down into the water. You can grab people, slap people, use people to push off of," junior Molly Mortier said.
Thankfully, this is not the beginning of a traumatic event, but instead a brief synopsis of a high school water polo game. 
"There aren't a lot of rules that dictate the physical aspect of it, basically you just can't drown someone," Mortier said.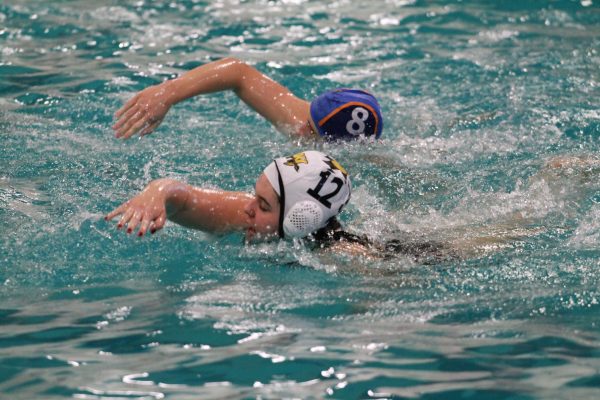 This is water polo, a cross between soccer, basketball, and hockey, thrown into a swimming pool. There are seven players to a team, including a goalkeeper. The pool is too deep to stand, so the athletes must keep their heads above water the entirety of the game by treading water. To achieve this they use a technique called egg beating, which is where the player only kicks one leg at a time and keeps their arms in front for balance. While holding themselves up for air, they must move a ball up the pool by tossing it between teammates using only one hand till they are close enough to take a shot on goal. If the shot is missed/saved or there is a turnover at any point, the team essentially has to partake in a 100 meter swimming dash to get back and defend the approaching team. 
On top of the challenge of the rules of the game, it is also a very physical sport. Player's nails are checked prior to the game, and have to be cut if they are too long to prevent players from scratching each other. Male athletes typically wear two speedos on top of one another, as it is a dirty trick to pull an opponent's speedo down as a distraction. Kicking and pushing off of other players is a frequent and legal occurrence. 
Junior Molly Mortier is a varsity swimmer and accomplished student at Conifer High School, and decided to take on Water Polo during her off season, making her the only Water Polo player at Conifer. Because very few high schools have a team, Molly plays for Arapahoe High School.
"I just wanted to try something new that was out of my comfort zone," Mortier said.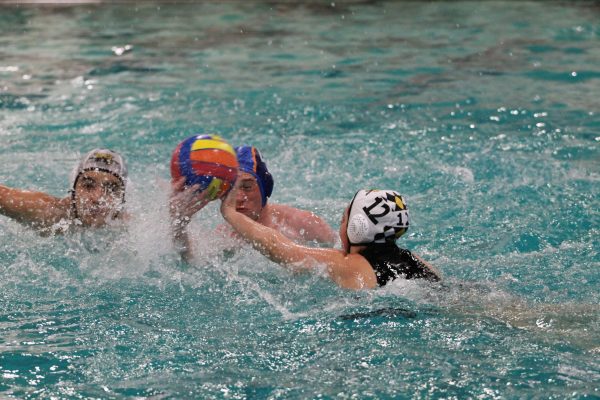 Not only is she the only Conifer student that partakes in such an unusual sport, but she is also the only girl on the varsity team. Molly threw herself into a brand new sport, one, while co-ed, is male dominated.
"In games, when I'm guarding a guy it doesn't even comprehend to them that I'm a girl because the game is so fast paced. I think it's a really cool sport to be a girl in that way. I think being on a co-ed team has taught me a lot and it's been a cool experience," Mortier said.
Because her physique and wingspan is smaller than the male players, Mortier is put at a slight disadvantage in the pool. However, that has just been part of the learning process that has made water polo such a good challenge for her. Because the unique sport has such a small number of participants, the teammates and coaches are really close. It is a tight knit community that has supported Molly to help her grow into the sport. 
"I've met really cool people that I never would have met if I didn't join water polo," Mortier said. "It's just been a really positive thing in my life. It's been really cool trying something new. It's so nice being able to go do something I love to get my mind off of other things. It's almost been a little haven for me."