Bunnell Scholarship Aims to Memorialize His Legacy
Conifer High School, in partnership with Bootstraps, is setting up an endowed memorial scholarship to commemorate the life and legacy of late science teacher Brian Bunnell.
Conifer High School is currently in the process of setting up a $2,000 endowed scholarship fund to honor the life and legacy of former science teacher Brian Bunnell. 40,000 dollars will need to be raised to set up the endowment, currently, the fund is at $33,230.
Bootstraps is a mountain-based scholarship and interest-free loan organization dedicated to relieving the financial strain of college on students in the mountain region. When the funding goal is met the organization will set up an investment account with the money, and the scholarship money will come from the earnings made on that account.
"We are absolutely honored as an organization that the community of Conifer High School trusts us enough to administer this very very special scholarship," said Susan Henry, executive director of Bootstraps.
The scholarship will be awarded to a student who embodies the spirit of Bunnell, possessing a love for science and adventure.
"[This scholarship] carries on his legacy of being that incredible science teacher and loving adventure and being outside," Henry said.
This scholarship is not purely academic and, as it operates as a memorial fund, it is intended to carry on the legacy of Bunnell through those who possess similar drive and curiosity. 
"There's no other scholarship that addresses this type of criteria," Conifer High School principal Gregory Manier said. 
Manier and a group of teachers were the first to come up with the idea for a memorial scholarship. Since then, Manier has been working with Bootstraps to make the scholarship a reality. 
"It meant that much to them that the kids here at Conifer benefited from knowing Bunnell and so it's really important to them that [Conifer students] are still able to benefit from who he was," Manier said.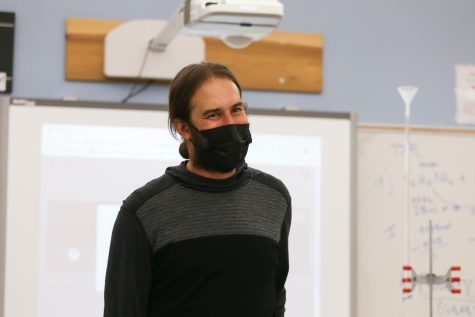 Bunnell passed in December of the 2022-23 school year. Since then, the community has been looking for ways to commemorate his time at Conifer and the impact he had on the community. This impact extends not only to current students but also to those in college and professional spaces as well. Milena Lewis, a sophomore at Bryn Mawr College in Philadelphia, is currently a biochemistry major who first discovered her passion for the subject in Bunnell's chemistry class.
"I wasn't very good at chemistry, I struggled a lot, and he was really able to make me believe that it was something that I could do," Lewis said. 
While Lewis graduated before the scholarship was created, Bunnell's passion for science has inspired her to expand her exploration of the field. She is currently considering a career in research for drug development.
"If this is a scholarship that people are really competitive to get I think that would break the spirit of what he would have wanted," Lewis said. "I think he would have wanted it to be something that's an encouragement for someone who wants a little extra help for a path that they're already on." 
While the recipient of this scholarship has already been chosen and notified, their name will not be announced until Conifer's senior awards ceremony on April 18. 
"The awards committee spent an awful lot of time making sure that we have who we think is the best candidate for this award," Henry said. 
Leave a Comment