A "life of adventure:" Conifer remembers science teacher Brian Bunnell
Bunnell, 44, died in an avalanche on Berthoud Pass Dec. 26
Conifer High School chemistry teacher Brian Bunnell was known by students for his booming laugh and love for the outdoors. He was the first to volunteer at school pep assemblies, and inspired many students to pursue careers in the science and medical fields.
Bunnell, 44, died in an avalanche on Berthoud Pass Dec. 26 while backcountry snowboarding with his three sons, who survived.
Bunnell grew up in Fargo, North Dakota, where he competed on the Fargo North High School swim and cross country teams. His father remembers a state swim race during this time.
"When he started to overtake his opponent, his teammates started yelling, 'Go, Brian, go,'" dad Ron Bunnell said. Soon, everyone at the swim meet had joined the chant. "Go, Brian, go! GO, BRIAN, GO!"
Bunnell won the race, but it was only the beginning of a lifelong love of adventure, which he shared with his family. Bunnell and his wife Kelly were high school sweethearts.
"We have been married for 20 years," Kelly Bunnell said. "He was the love of my life. He was hilarious, he had the best laugh, and this is hard."
Brian Bunnell graduated from Duke University, and taught chemistry and advanced placement chemistry at Conifer High School for seven years. 
"I started my first year of medical school in the fall, and I attribute that greatly to Mr. Bunnell," Jessica Oudakker, CHS' 2019 valedictorian, said.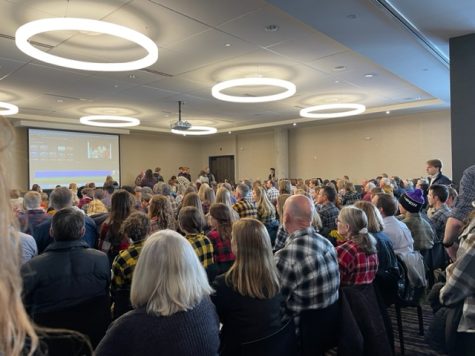 She talked about how he sat down with her when she was rejected from Duke University and empowered her to continue pursuing her dream of becoming a doctor.
Other students spoke at a celebration of Bunnell's life on Jan. 2, many wearing flannel shirts like the ones Bunnell often wore to school. 
"He was always very understanding, especially when I was struggling to learn online, and usually worked with me as my lab partner because I didn't have many friends in the class," senior Gabi Book said.
Chemistry is a difficult subject, but Bunell went out of his way to make his class engaging.
"During finals week we tie-dyed shirts and held bubbles to light on fire," Reece Harrison, a 2021 Conifer graduate, said. "He taught me that science has a fun side, even though it can be easy to forget in the midst of molecule shapes and stoichiometry." 
Bunnell's coworkers remember his selflessness. Fellow chemistry teacher Amy Anderson talked about how, after her mother died, Bunnell took over teaching her classes to give her time to be with her family. 
"I taught next door to him this year, and he had the loudest laugh," Anderson said. "His laugh would just erupt, and I would just get a big smile on my face because he was having fun teaching chemistry."
Bunnell was invested in his students, but he didn't let his career keep him from the adventures he loved. He spent his winters on the mountain slopes and his summers boating, mountain biking and traveling with his family. 
"Contrary to popular belief, teachers are people, too," Conifer principal Greg Manier said. "A lot of times that is lost. It's easy to see, when humans stand in front of a class, who is grounded and happy with their life outside of school. Brian is the epitome of that."
Bunnell's legacy is one of adventure and a reminder to seize every opportunity to live in the moment.
"Each of us has a little piece of Brian's spirit in our heart, and I want you to let that grow," dad Ron Bunnell said. "I know how I'm going to let it grow in my heart. I'm going to get up, and I'm going to look into my heart, and say, 'Go, Brian, go. GO, BRIAN, GO.'"
The Bunnell family requests that those looking to remember Brian Bunnell send donations to the Colorado Avalanche Information Center or Grand County Search and Rescue in lieu of flowers.
Also, a GoFundMe to support Bunnell's family can be found here.
Student Memories of Brian Bunnell
"
He had a really huge impact on my life. I was the only sophomore in his AP chem class and he would help me for upwards of four and a half hours every Green Day to not only pass but to really grasp each subject. It's because of him that I'm now going into biochem and plan to get my PhD someday. He was always so patient but also hilarious and he deserves to be remembered as the incredible teacher and person he was,
— Conifer graduate Milena Lewis
"I had him for Honors Chemistry sophomore year during online school when we had A and B cohorts. Even though I really struggled with chemistry, he really tried his best to help everyone understand the best we could during the pandemic. He was always very understanding, especially when I was struggling to learn online, and usually worked with me as my lab partner because I didn't have many friends in the class,"

-senior Gabi Book
"One day he decided to dissolve a penny during class. I don't remember why, but it was 100% unrelated to what we were doing. He put it in the hood, and it started billowing brown smoke. He told us not to breathe the smoke, and started waving his hands in it. We were like, should you be doing that? And he said, 'it's okay, my hands can't breathe,'" also, "I had the chemistry final the day after my Uncle died. I couldn't focus so after I asked him if I could re-take it. He let me, which was good because I failed the first time and passed the second."

-Conifer graduate Chelsea Jones
"On my first day of high school, I was a scared little freshman who was not good at science, somehow sitting in a class full of Sophomores with only one person I knew.  Bunnell decided to make some sort of reaction with sugar and sulphuric acid, just for fun.  He proceeded to forget about it and then remembered about it near the end of class, when he realized it had gone rock solid and ruined the beaker.  It definitely alleviated the fear of being a freshman in a class of mostly sophomores,"

-senior Autumn Jones
View Comments(1)