Post-It
Hang on for a minute...we're trying to find some more stories you might like.
Sophomore Darian Scardia walks through the classroom door, along with the rest of the students heading for class. Everything is the same, the desks, the board, but something on one of the walls is new. Next to the board is a new poster: a giant green hand with a very interesting sentence beneath it.
Upon my honor as a Conifer High School student, I have neither GIVEN nor RECEIVED
unauthorized assistance.
These posters are in almost every classroom, repeating the Conifer Honor Code. A few teachers banded together to discuss what they can do to combat the recent cheating scandals.
"At the beginning of the year, teachers were supposed to present [the code of conduct] in seminar," said Mrs.
Ader, a mathematics teacher. "There has been an increased number of incidents, and the AP Biology incident said 'OK we got to stop this'."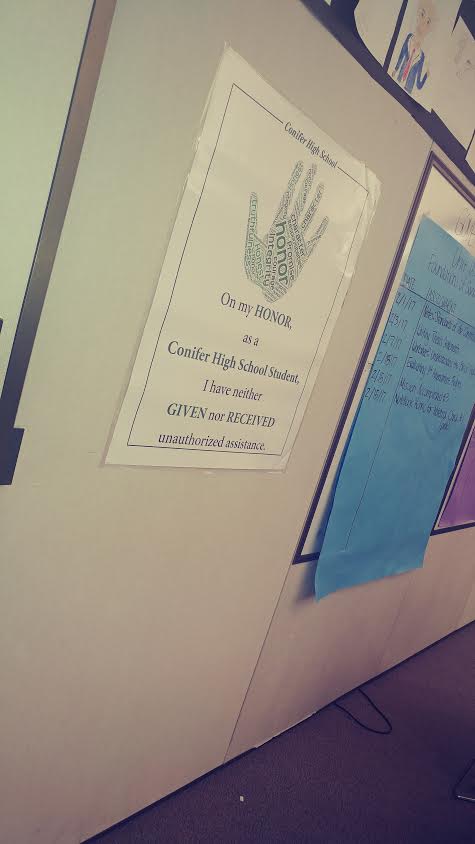 Photo by Jasmine Anderson
The AP Biology incident happened during the second semester finals in the 2015-16 school year. During the AP Bio final, students used a group chat during the test to trade answers to pass the final. The students were caught, and the leaders of the cheating event were suspended. Cheating is no news for Conifer, but lately has been more and more common.
"I don't really think that people would pay attention to it," said Scardia. "I personally wouldn't pay attention to it."
Whether the posters are effective or not, teachers are taking a step into the direction of cracking down on cheating. For some classes if a student would cheat they would fail the assignment or test in which they are working, sometimes without the option of retaking it. Being sent to the office, detention, or even suspension are all possibilities of cheating on important tests and exams. Students are encouraged not to cheat, because in the long run it will ultimately backfire.