New Season, New Gaming Session
Conifer Esports team enters a new season with high spirits.
Math teacher Drew Maseberg's classroom at room A007 is what most would expect from a math class; with its gray walls and quiet atmosphere to the benefit of those in his math lessons. However, after school, Maseberg's room is transformed into one of flashing colors, sound effects, and excited conversation between the members of the CHS Esports team, which is headed by Maseberg himself.
"I wanted to give kids who don't typically play sports a place to come and compete in something they enjoy," Maseberg said.
Studies have shown that around 82% of students in Esports clubs across the country have never been in an afterschool high-school activity before. The opportunity for these students to connect with one another over a shared interest, has led to a very friendly environment in room A007. This environment fosters growth and allows students to become better players and potentially reap the benefits.
"Nowadays students can get scholarships for playing certain video games," Maseberg said. "And we compete against other schools in Colorado,"
The club has around a dozen members. These members are divided into different groups based on their game of choice, with a Mario Kart team, a Super Smash Brothers team, and more. In these teams there are coaches; skilled club members who teach the rest of the team how to become better at the game. These coaches prepare the team for the competitions the club will compete in.
"I am a coach for the Super Smash Bros team," Esports Coach and senior Roch Sparks said. "There's a lot of aspects to Smash Bros in terms of getting better and in terms of mechanics and thought processes."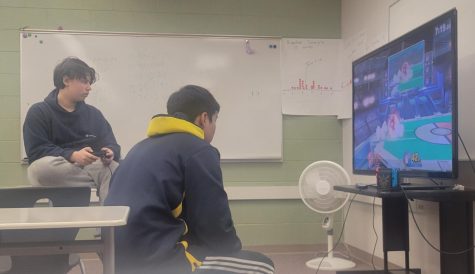 Practice has started in preparation for the season which begins in a few weeks, and hopes for the clubs chances regarding the Super Smash Brothers team is high. Near the end of the semester in May, the playoffs for the state championship begin. This championship is the same as any other traditional sporting championship, and the Conifer Esports team is hopeful about its chances in the competition. 
"It's a place to hang out, maybe get better and have fun," Maseberg said. "There are some who are big competitors and some who are not big competitors and I'll take them all, I don't really care as long as you have a place to come and play some video games."
Leave a Comment