From Across the Sea to Conifer
Hang on for a minute...we're trying to find some more stories you might like.
Visiting a new place is always an experience, but for some students, every day is a new adventure. Foreign exchange students have been on a journey since they left their hometowns.
After his brother made a similar journey to America, sophomore Bram Verheij decided to leave Germany and spend his sophomore year at Conifer High.  
"I'm staying with my cousins' family," Verheij said. "My parents asked me if I wanted to stay here for a year to see what high school was like, and I went with it."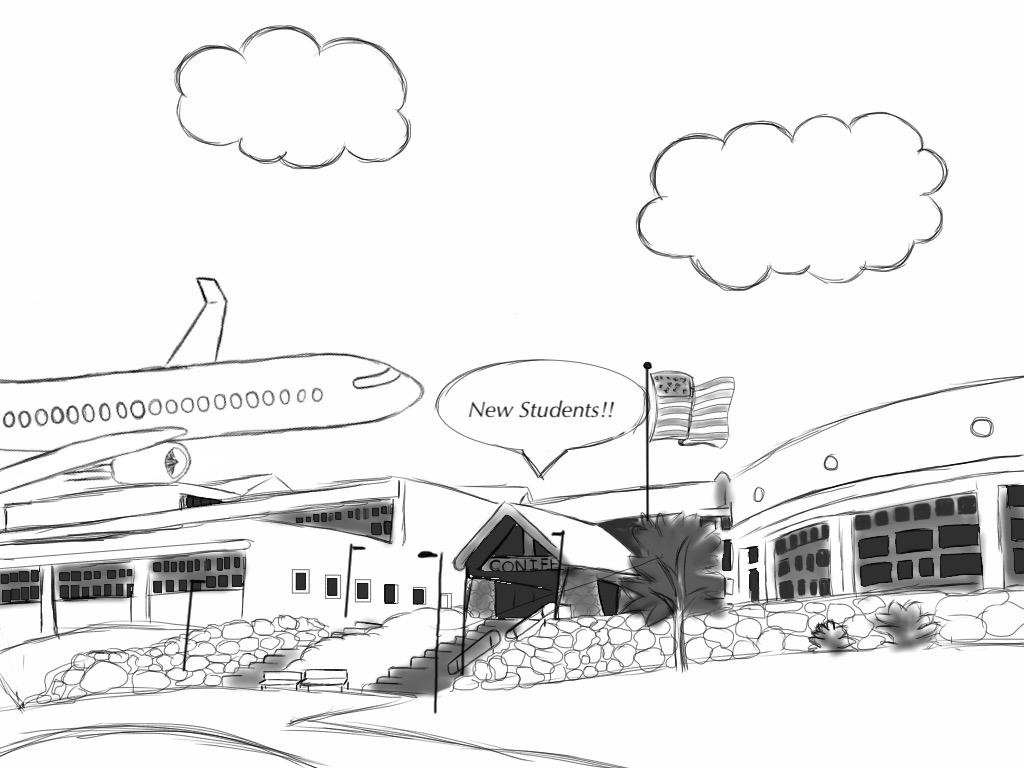 When Verheij arrived in Colorado, the people were very different from those in his hometown. However, he quickly became accustomed to the community.
"Germans are generally pretty boring, so there is a big difference between Americans and Germans," Verheij said. "Everyone here is very open and happy to talk, which isn't an experience you have with Germans. [Conifer High] has been a lot of fun. I do enjoy being here."
Before Verheij started at Conifer, he toured the U.S. with his family. They visited Yellowstone National Park, and stopped at various cities. When school started, making friends was a very different experience than in Germany.
"Making friends is easier, definitely," Verheij said. "Random people will just say hi to me, who I barely even know. It's surprisingly easy, and living at home is different since the family I'm staying with is very chaotic, and just randomly bursts out into musicals… So, it's been different, but fun."
Bram isn't the only student at Conifer to recently join us from a new culture. Senior Ana Carolina Silva transferred here from Brazil as part of a foreign exchange program. Similarly, she has encountered a big difference between the United States and Brazil.
"
Meeting different people in a different culture is pretty awesome, but I miss the food in Brazil and my friends.gr "
— Ana Carolina Silva
"It was different for me because I live in a really big city [in Brazil]," Silva said, "And here I live on the top of a mountain, so it's pretty different… Meeting different people in a different culture is pretty awesome, but I miss the food in Brazil and my friends."
Silva faced a huge challenge coming to America, which was learning English. She became completely immersed in a world speaking a different language that she had only heard in English class.
"We had English classes in school in Brazil," Silva said. "But they weren't that good, so I needed to go to another school that was just for English, but that wasn't good either. So I came here and my English was pretty bad… but I'm learning. At first it was hard [to take classes], because my English was really bad. But I'm learning stuff here, so it's easier, and I think my English is a little bit better."
Another challenge for Silva has been leaving her friends and family, as well as meeting new ones.
"Sometimes, I miss my Mom and siblings, and my Dad," Silva said. "I've been alone since I got here, but I have a host family, so it's not too bad. My first host family wasn't really good, but the second one was, and I know the third one is too, so I'm really excited to stay here."
As it could be imagined, the school curriculum in Colorado is extremely different from that of Brazil.
"In Brazil, school starts at seven and is done at 12:30, and we have six classes per day… And, teachers move, so we would stay with the same class for so long. And, we have uniforms which is really good because I don't have to think about what I'm going to wear at six in the morning. But we couldn't choose the classes that we want to study. They have thirteen or fifteen classes and we have to take all of them in a year. But here, one semester I take some, and another I take different ones."
Although Silva and Verheij have both faced challenges in adjusting, they would agree that coming to America has thus far been a wonderful experience.