Connections in Clue
Conifer's Stagedoor Theater's adult company recently started performing their own version of the play Clue, based on the 1985 board game. It is a comedic murder mystery, starting with a dinner party and a dead host. The show is playing for the next three weekends, the last day to see it is February 19th.
"I like finding these little fun moments of comedy to play up and use to interact with people. I don't quite fall into a character like a lot of actors do but I do like bringing myself to the character," actor Stacy York said.
York is an English teacher with Denver Public Schools. This was her first production in Colorado, and her self-proclaimed "dream show." She plays the character Scarlet who's main trait is her sassiness.
"I like connecting with the people, the audience, the cast; I think the traditional answer for actors is 'I like embodying a new person' and it's not that," York said. "I like bringing the sass to the stage. I like those moments of connection."
The show is full of big moments. There are several death scenes, running jokes, even a couple monologues.
"I think the most shining moment in the show from audience response is Wadsworth's monologue at the end, when he's running around and recounting all the events of the night. I think that has the biggest impact on the audience," stage manager, Casper Harvey said.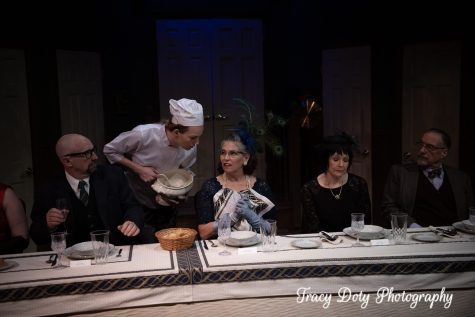 Acting is a  big part of theater, but the things that happen backstage are equally as important to the show overall. The actors bring the show to the audience by embodying characters and giving them life, while the tech crew backstage bring color and light as well as sounds and set.
"What I do is tiring and it's a lot of work but being an actor is keeping your voice clear, props in line, keeping yourself together, getting ready and running lines. Tech is a lot more learning exact moments and timings and making sure everything sounds and looks good," sound technician Olivia Clark said.
There were constant sound or light changes throughout and some moving walls to indicate room changes. Sound and lights had dedicated people, while walls and props were moved by a small run crew.
"It feels like we just started this yesterday, The show has been such a tremendous period of growth for me as a tech theater major. I've learned so much and I've met so many incredible people who are willing to teach me and help me grow," Harvey said. "I'm incredibly happy and honored that I got the opportunity to do this show."
Clue at Stagedoor is about an hour and a half long with no intermission. Student night is February 9th. Conifer also has shows for their choir that weekend, which can make for fun weekend plans.
"Theater is one of the most important facets of human existence because story is how humans have communicated for millions and millions of years," Clark said.
Leave a Comment