Unmasked At Last
Jefferson County Schools lift mask mandate
It's been more than 2 years since the COVID-19 pandemic first gripped the globe. And COVID hasn't disappeared, but masks are beginning to. For the first time since May 1st, 2020, students and staff at Conifer High School are finally able to fully see each other's faces. 
"The district works with the County Health Organization and they presented the request to lift the mask mandate for K-12 schools in the district," CHS Principal Wesley Paxton said. 
The district originally planned to lift the mask mandate by Friday, February 18th, but based on the declining number of positive cases in the county, they made the decision to lift it even earlier. So, by Saturday, February 12th, the mask mandate was lifted, leaving CHS students free to choose whether or not they'd wear a mask. For many students, this is a huge relief. 
"I am very excited that masks are no longer required in school because it signifies a potential end to the pandemic, which has been such a prominent part of my life for the past couple of years," a CHS student responded to an anonymous poll.  
The pandemic caused changes in everyone's lives, and for some people, this resulted in lots of stress and anxiety. A study by Johns Hopkins Bloomberg School of Public Health had 300 teenagers take a survey about their mental health during the pandemic. Of these, 50% said that the pandemic had created stress and anxiety for them. This is the case for several CHS students.  
"The mask has always made me feel isolated. Sometimes it has benefits, like making me feel as if I am protected during anxiety-inducing situations, but overall it makes me feel alone and as if I'm just blending into everything else. I've always had problems with emotions like that, so this is a nice change,"  another CHS student responded to the anonymous poll. 
For many students, the end of the mask mandate is a relief, but not everyone feels this way. A survey was taken of 104 students that attend Conifer High School. Out of the 104 students, 67.3% said they would stop wearing their masks and 15.4% said they would continue to wear their masks. The remaining 17.3% weren't sure yet, or said that their use of a mask depended on what their family or friends were doing. Some students feel more comfortable with a mask, or have family members who are at a high risk of getting sick, which influences their decision to continue wearing masks.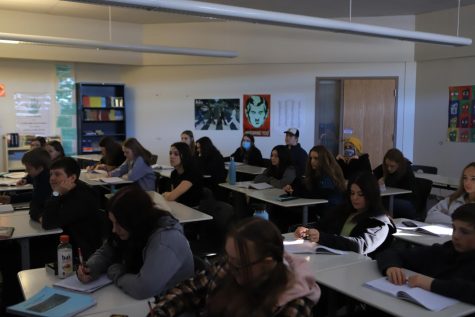 "I'm keeping my mask on because I just feel more comfortable with it," junior Ana Tena said. 
After living in a pandemic-ridden world for so long, some people are gripped by fear and uncertainty. There is no way of knowing if someone will get COVID until they already have it, and some people are at high risk. So, for some people, taking off the mask is difficult to do and they need to wait longer. However, the masks aren't the only things beginning to change. According to the CDC, the current weekly average of new cases has decreased by 48.2% from the previous week and 75.8% of the US population has received at least one dose of the COVID-19 vaccine. 
"Our vaccination rate is very high, we've already had a ton of COVID cases, so I think most people will probably be fine. It'll just be a slow process back to being comfortable again," Clinic Worker Marianne Hislop said.
Leave a Comment