Fall Is Here, And So Is The Music
The time for Conifer High School's fall music concert is approaching fast. On Thursday, October 21st, the instrumental and choir programs will have their first concert of the year. Three groups will be playing; Conifer Strings, Conifer Choir, and Conifer Jazz.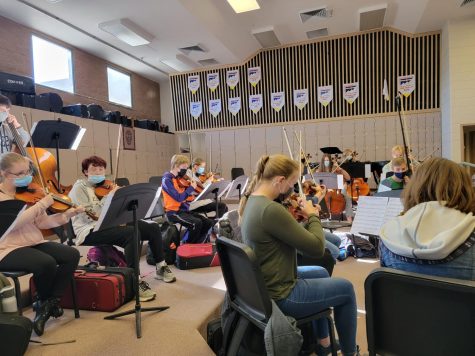 Many students, teachers, and parents are looking forward to the concert.
"I'm excited for the solos. I've never done a solo before, so I'm excited to give it a try," Sophomore violinist, Forellen Bonham, says. 
Due to COVID in the previous year, there was only one concert and it had to take place outdoors.
"As far as the outdoor stuff is, it's not quite the same as being inside and really feeling the music," Instrumental Director, Sean Cartner, said. 
The music groups have the exciting opportunity to perform in a normal setting again.   
"The biggest thing I'm looking forward to is sharing live music again, especially in the indoor concert setting," Cartner said. 
Entry is free, and the concert will be in the CHS Cafe at 6:00 pm on October 21st. 
"Everyone's welcome; friends, family, other students, whoever wants to come out and hear us play!" Cartner says. 
Leave a Comment