Not in Florida anymore
  Tim Starr is new to Colorado's cold fronts and snowy winters, and he's also new to Conifer High School.
   Starr moved here from Florida during last year's summer, and of course he misses home, but he's making the most out of it.
   "I like it here; it's not a sucky place to move to," Starr said.
   Starting at a new school is scary and challenging, especially if one is a freshman coming into high school.
   "I had to make new friends, obviously, because I didn't know anyone, but overall I think I'm fitting in well. During the first week of school, my friends told me that I was the most 'likeable' person out of all of them, so I think I'm fitting in well," Starr said.
    Starr has also been making friends in class as well as on the tennis court; he has been playing tennis since he was in the 7th grade.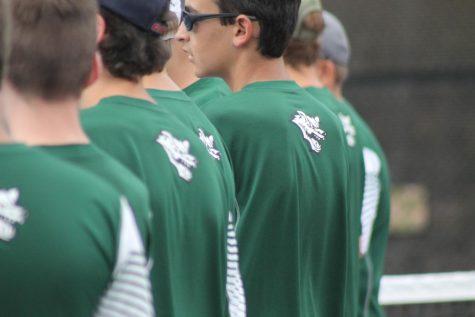 "I played for two years give or take back in Florida; I mainly took lessons. I'd say tennis is more competitive here, because in Florida I wasn't on a team, I just took lessons. I got to meet new people through tennis. I didn't know anyone in my math class, but now I do. Tennis just helped me meet new people," Starr said.
   The tennis team hasn't been the only change in Starr's  lifestyle. Colorado has been very different from Florida. Florida has golden sand beaches, while Colorado has merciless snow. However, this hasn't been Starr's first encounter with snow; he lived in New York prior to moving to Florida.
   "Florida was different because I wasn't used to cold weather, and I've never taken the bus before. I miss Florida a lot; it's colder here and I have friends back there," Starr said.
   Starr's family didn't move out here just because of the amazing ski slopes. A new future for his family was waiting for them here in Colorado.
   "My dad got a new job here, and he also said the schools are pretty good and wanted us to move here," Starr said.
   The pieces of Starr's life are slowly settling into place as he adapts to his new school and lifestyle. But, Starr has already planned for the future.
   "I hope to go to college, get a good job, and basically just have a successful career and life."
   Starr has already made it past the scary part when it comes to making new friends and fitting in. With his high school life just beginning, his new life in Colorado has too. Leaving the beaches and shores behind, Starr seems ready to take on the hurling snowstorms and challenges that Colorado and high school have for him.