Conifer Shows Off Talent
On the night of March 31, from 6-9 pm, Conifer's Got Talent made it's debut. Students were presented with the opportunity to showcase their talent on stage in the Conifer High School cafeteria. 19 students, from Conifer and other schools, chose to participate and show off their skills. 
"We just have so much talent at Conifer and people need to see it. So we thought, what would be better than having an event where our most talented students get to perform and get to compete for a prize?" Assistant Principal Becky Paschke said. 
Paschke and other staff at Conifer organized the event. Food and refreshments were provided by State Farm, and donations were recommended in return. The money will be put into supporting the Conifer arts programs. 
"Tonight, it was just a really great community effort, where everyone came out to support the performers," Paschke said. 
Each performer was given 5 minutes on stage and when all 19 performers finished, the judges picked the winners. The students who won the opportunity to perform at the EPRD Summer Concert were Bryce Merrill and Ikki "Lil-G" Shimada. In July, Merrill and Shimada will perform a thirty minute set at the nighttime EPRD concerts. Alathia Rooke won the songwriting competition and was awarded a $350 scholarship to DU's Newman Center Music Creators camp taking place in June. 
CHS student Kailani Sprenger was one of the first performers. She sang 'Daddy Lessons' by Beyoncé.
"I feel pretty good [about my performance] but I wish I projected more," Sprenger said. 
CHS sophomore Fiona Matschullat also sang. She chose to sing the song 'Light of Love' by Florence and the Machine.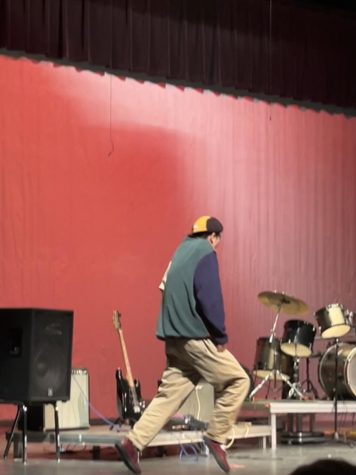 "This is an artist that I really love and connect with, so I just enjoy singing her song and that's why I picked it," Matschullat said.
Matschullat isn't alone when it comes to having chosen a song that holds a personal meaning for her. Gabriele Sticchi, an exchange student from Italy, currently attending Jefferson County Open School, chose a song to play on the piano from his favorite movie, Interstellar. 
"I messed up a little bit, but I'm proud because I just came to have fun," Sticchi said. 
The event was sponsored by Thrivent, Evergreen Parks and Recreation District, Evergreen Clothing and Mercantile, and State Farm. 
"I'm just happy that I got to be a part of this," Matschullat said. 
Leave a Comment