Conifer Students' Cadaver Field Trip
CHS AP Biology and Biotechnology students attended a cadaver lab hosted by Red Rocks Community College on March 4.
Conifer High School provides students with the opportunity to attend a cadaver lab at Red Rocks Community College. Attendees get the chance to see the inner workings of one male and one female body. Both bodies have been donated for educational purposes and have already been dissected prior to the lab.
This experience has been a tradition at Conifer for around a decade. There are two more labs occurring this school year: an afternoon or morning slot on March 11. Any student who is at least 16 years of age is eligible to attend. 
"Even the people I would think would be bored because they get bored in class are engaged because you're looking at a dead body," science teacher Christine Stricker said.
The March 4 lab was run by PhD Lisa Mace, an anatomy and physiology professor at various community colleges in the Denver area, including Red Rocks and Front Range. Mace started her career working in research and medical sales but later moved to education.
She earned her PhD from the University of Colorado Boulder and first started her educational career in Wyoming. It was there that she transitioned from dissecting frogs to humans. 
"There was a lot of curiosity, and a lot of anxiety, towards stepping into cadavers during education," Mace said.
Before the lab, students geared up by putting on full body robes, gloves, and glasses, which were measures against any bodily tissues or chemicals used for preservation. Students start first with the male cadaver and begin at the legs and end at the torso. They have the opportunity to view all systems in the body, and observe any deformities or mutations. 
Mace ensured that all attendees had the opportunity to participate in some way, whether that was moving a flap of skin out of the way or holding an organ and passing it around. Students were also responsible for helping her move the breastplate (chest and ribs) and replacing any removed organs or bones. 
"Holding the body parts, doing all that stuff, was just science, but it was actually something I could learn from," CHS junior Joseph Starr said.
However, students were not required to participate in any way, they were provided the option to leave the room or sit down with the class pillow and blanket.
"I think it's important for people to have the freedom to approach," Mace said.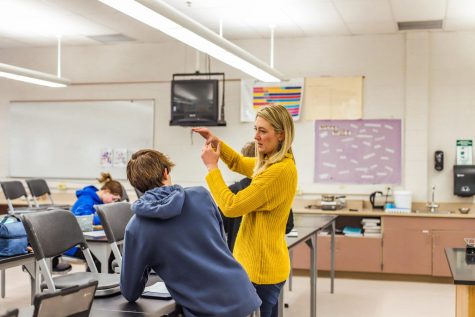 The pillow and blanket were also available in case anyone in the class fainted, which fortunately did not occur during Saturday's session. 
"The fear of passing out was constant," Starr said. 
Mace was very sensitive to the disturbing nature of the lab and ensured every member had a partner to watch over them. She eased the class into the lab, by spending time to introduce herself and tell stories about her and others reactions to the cadavers. All of this was to create a safe, judgment free environment, recognizing the various reactions and disturbances that people have to seeing a dead body.
"It was so odd, because this was a real person with real memories and real experiences and they're there dead on the table," said senior Sheridan Thomas, who attended the lab last year and is signed up for an upcoming lab on March 11.
Students in the class were not provided with the cause of death for either cadaver. Instead participants were walked through the various systems of the body and asked for their observations. A sub part of the lab was a sort of CSI investigation, where students tried to deduce the cause of death of the cadavers. 
"It's much more [than what students would learn in the classroom] not just giving you the facts but having the students think about things," Stricker said.
The lab closed with an observation of three brains, two from the cadavers and one from a previous cadaver. Students held the brains and were offered the challenge of reassembling a dissected brain. 
Throughout the lab students were met with a familiar phrase from the instructor. Whenever Mace concluded teaching about a certain organ, muscle, bone, or tissue she always ended with "interesting, kinda interesting?" to which most students either laughed or nodded their heads. 
Students who attend the lab are presented with a rare experience to observe the inner workings of the human body close up. By the end participants had been faced with the opportunity to hold a heart, squeeze a brain, and see a gallstone the size of a walnut. They were faced with the possibilities and the fragility of the human body.
"Everybody should expose themselves to as much in an educational environment as they possibly can," Mace said.
Leave a Comment