$15,500: Where to Spend It?
The Keep Conifer Green club won second place in the Renew Our School's competition from October through November of this school year. They won $15,500 and are now searching for ways to spend the money that will reduce the school's energy consumption.
The Keep Conifer Green club participated in the 5-week Renew Our Schools competition from mid October to mid November. Results for the competition were released on November 18th. The competition was aimed at reducing schools' energy consumption and educating the community about overall energy usage and environmental effects of excess energy usage.
The top prize went to Green Mountain, but Conifer's second place victory still earned the school $15,500. However the money cannot be spent on anything. It is given to schools specifically for the purpose of installing devices or technologies that will help decrease a building's habitual energy consumption, or average consumption over a period of time. 
"[There's a] pretty overwhelming consensus that we should use it for interior lighting," science teacher Jeff Colborn said.
These would include the addition of LED lights, motion sensors, or solar tubes.
"We were thinking that we might not be able to get them in every classroom, but at least for the hallways, because the hallways take up a lot of energy," sophomore Serinity Stokey said.
Participating schools were given an eGauge, an energy monitoring device, which allowed students to track their energy use and compare that to previous energy use. However, Conifer reduced its energy usage by a smaller margin than was needed to win. Therefore, most of Conifer' 374 points came from the educational and awareness activities that they arranged. Some of these included putting up posters and arranging for a school wide Zoom meeting.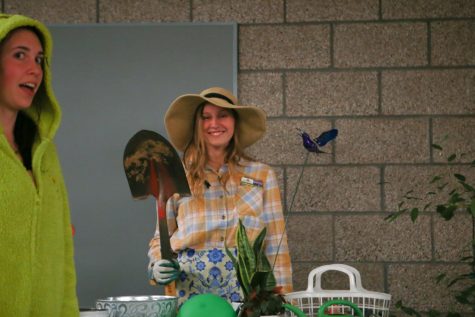 "We had a lot of wasted lights in the hallways that we didn't think of turning off until later in the competition," club president and senior Alyson Westfall said.
Most of the school's energy waste came from constant use of lights in classrooms, hallways, or other educational spaces. The last few days of the competition saw the school go dark, as hallway lights were turned off to conserve energy. 
"I've definitely taken away how important it is to think about your energy usage," Westfall said. "It's also so much easier than you think to reduce it. Like, just simply flipping a light switch or turning off your heater or something like that."
The club is currently finalizing what the prize money will be spent on, but LED lights or solar tubes are the most likely and cost effective options.
Colborn notes that these items most likely won't have a measurable effect on the county's electrical bill because so few schools in the district will be making these changes. While Jefferson County's overall energy usage will not be measurably decreased by the addition of any of these items they will act as a "thought experiment". When adopted by more and more schools this change will lead to long term and widespread decrease in energy consumption.
"Our electricity in Colorado comes from fossil fuels and so this is a climate change issue. If everybody does this you would see an impact," Colborn said.
Leave a Comment