Jeffco Elementary School Closures a Consequence of District Wide Decline in Enrollment
The Jeffco Board of Education has voted to close 16 elementary schools across the district. Declining enrollment across the district has made keeping these schools open impractical.
16 elementary schools across the Jefferson County School District will close in the next two years due to declining enrollment. Schools with fewer than 220 students or those that are utilizing less than 45% of their facility and are within 3.5 miles of a school that can accommodate the students were recommended for closure.
"There's just a lot of buildings that aren't full, a lot of schools that are struggling with low enrollment, and what that means is they really struggle to provide rigorous and robust programming for students," Jeffco Superintendent Tracy Dorland said.
Since the 2007-08 school year enrollment has steadily been decreasing in grades K through 12, with the biggest decreases in grades K through 5; enrollment for the district was at 84,796 in 2007 and last year dropped to 77,347. These numbers were impacted most during the years impacted by COVID-19, as students toggled between in-person and online learning.
Recognizing the impact that the closures have on enrolled students, the district is taking steps to prepare students for the shift. Schools are staging field trips for students to meet their new peers and tour their new facilities. Jeffco is also providing enrollment specialists, set aside for helping families transition to a new school for the upcoming school year. 
"This is a really difficult thing for the district to do and none of us are happy about closing schools," Dorland said.
This move to consolidate has uniquely impacted the mountain community. Bergen Meadow, a K-2 school in Evergreen, was recommended to consolidate with their neighboring elementary school, Bergen Valley. Bergen Valley will undergo an expansion starting this summer in order to expand its facilities to accommodate incoming students. Due to this expansion, the schools were recommended for consolidation during the 2024-2025 school year as opposed to other closures that will occur in the 2023-2024 school year.
"There's a lot of people that are really excited about it…I think people are looking forward to the opportunity to all be together," Bergen Meadow and Bergen Valley Elementary Schools Principal Kristen Hyde said.
The Bergens are consolidating following a post-COVID drop in enrollment. Bergen Meadow lost around 70 students, making them eligible for closure. The building used to serve grades K through 6 until Bergen Valley was created to serve grades 3 through 5. Bergen Meadow was built in 1970, and due to its age is in need of major renovation. The money that was set aside for this renovation will be redirected into the creation of the new addition to Bergen Valley. There is no word yet of what will be done with the Bergen Meadow building, decisions will be made by the district with community input following the school's closure.
These two schools are in a unique position during this massive closure process because students from Meadow transition to Valley during third grade.
"They're going to be in a school that is a traditional elementary school whereas, unfortunately, the other 15 schools that are closing are losing their school communities," Hyde said.
Though the change means that schools will now receive adequate funding and support, emotions run high as years of history and memories are lost. There is a wall in Meadow where departing students put their handprints to encapsulate their time there. Past students will visit and find their handprints to remember their time there. 
"I want to commemorate the history here," Hyde said. "We have a time capsule that is buried outside, so we're really working on how we can celebrate the history and memories of Meadow while bringing us all over to Valley."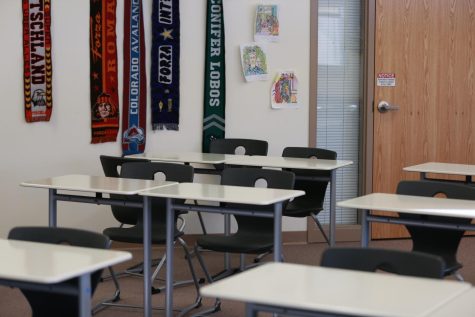 This decline in enrollment is explained by the ever-decreasing number of school-aged students in Jeffco. The first grades to be impacted by this are schools serving younger aged students. It is expected that as these students grow older the decline in enrollment will begin to impact middle and high schools.
"If you have fewer students in elementary schools, obviously you have fewer students that matriculate up to sixth, seventh, and eighth," Dorland said. "We are seeing some of our middle schools decline in enrollment and we anticipate that we'll soon see that impact at high schools as well."
Arvada High School is an example of higher-level decline in enrollment. The school is able to serve around 1500 students but currently only has around 800 students enrolled. 
"We're going to have to take a look at that data set and make some decisions about whether there are some K-8 schools, or middle schools that we may need to close," Dorland said. "We also want to start talking about highschools and if highschools are under enrolled are there other programs that students are interested in that we might want to move into that square footage."
In recent years Conifer, too, has been experiencing this decline in enrollment.
"Historically we are definitely lower than we have been. When I started here in 2000 we were over 1000 students," Conifer High School principal Gregory Manier said.
A large portion of school funding is decided by the number of students actively attending that school, so as enrollment declines so does the amount of funding that an institution receives. This decrease in funding diminishes the number of teachers that a school can employ. Declining enrollment and a subsequent decline in funding has begun to impact funding and available teaching positions at CHS. 
Last year Physical Education Teacher Melanie Andriese left Conifer when the school was no longer able to employ her full-time. Two years ago Andriese was told that her position was not going to be available for the following school year, however in February of that year she was informed that her position would be available due to a last-minute increase in enrollment. Last year this happened to her again, however, numbers did not look up, Andriese would have to get another part-time position in order to continue working at Conifer High School. Andriese decided to leave Conifer and took a job at Littleton Public Schools teaching physical education. 
Currently Conifer has 821 students but West Jefferson Middle School, the main feeder school for Conifer, has only 172 students currently enrolled in 8th grade. This means Conifer is currently predicted to have under 800 students in the next two years. Conifer's enrollment is predicted to decline by another 33 students next year; these numbers are subject to change depending on open enrollment. 
"Can we overcome it? Probably not, but there is hope," Manier said.
Leave a Comment