Growing into our Boots
Boys soccer finish a winning season; the first in over 13 years
Loud cheers erupt from the stands and the field as Lobo Boys Soccer secures one final win to end their season. The game against the Littleton Cougars started with strong momentum, but both teams were very evenly matched. They fought through the first and second half without either team managing to find a goal, sending the teams into overtime.
During overtime, Miles Garrison sent a cross into the box, where Grant Kirklin was waiting to fire a half volley into the bottom left corner. 
"During [the game] I have no emotions, it's just another goal, but looking back it's kind of cool to score the winning goal in overtime in my senior game," senior Grant Kirklin said. 
This final win brought the Lobos' record to 11-4. Whether it was a difference in playing techniques, a new roster of players, or the growth of the team as a whole, they are looking the best they've looked in a long time. Though some records have been lost, the team's last winning season can be traced back more than 13 years ago. 
"I was able, with this group, to be more aggressive and take matches on, when in the past we were thinking more defensively about how to keep ourselves protected. This year we thought about how we can take advantage of what we have and go forward." Coach Jason Wooldridge said.
The team has about nine upperclassmen starting, with seven juniors and two seniors. Having an older team has allowed them to play to a higher level because they are physically stronger and bigger, and emotionally more interconnected. The more time the players have spent in the program together, the better they can build trust and understand each other's gameplay.  
 "Not being the youngest team on the pitch all the time, I think we are finally starting to grow into our boots," Wooldridge said. 
The team had such strength this year that their record allowed them a shot at making the playoffs. After their final league game, they were forced to wait a couple of suspenseful days to see if their season had really come to an end.
"We don't know for sure if this is our last game, but if it is, I'm happy to end it like this." Senior Maddox Rife said. 
Unfortunately, the game against Littleton finished off the season for Conifer. The team was knocked out of playoffs by one spot, falling just short of their huge goal for the season. But Coach Wooldridge could not be more proud of his boys. Going from a record of 1-13-1 last year to an 11-4 this year is a drastic change that really tells the story of how this team turned the tables. Looking forward, the team should only get stronger as it ages and improves.
"I have youth that will help build the program and give us opportunities next year," Wooldridge said.
Although the program will continue to develop and gain players, it will suffer the loss of its three seniors, Maddox Rife, Grant Kirklin, and Jacob Reynolds. Rife and Kirklin always started for varsity, and Reynolds was the starting JV keeper. Rife has been a part of the program his entire high school career. He made varsity as a freshman and has been building his talent on the team since. This year he had the most assists (11) and the most cumulative points (33). His stats have been the best he's ever had this season, crushing every previous average. He also received the "player of the game" award twice. 
"That was one of the best seasons that Conifer's ever had. I'm just glad that my senior year could be a good year." Rife said.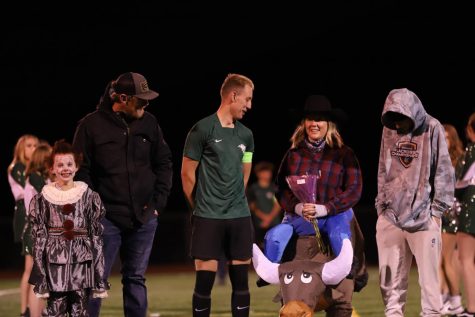 Kirklin made a return to the team this year, after playing competitive club soccer with Real in order to be scouted for college. Kirklin attends Platte Canyon for school, but they don't have a soccer program, so he joined Conifer. He had played for the Lobos freshman year as well and decided to return to the fun high school dynamic for his senior year. He has been an invaluable member of the team with talented dribbling skills and the ability to assist beautiful long balls particularly off of free kicks. He totaled 25 points and received "player of the game" award three times.
"I'm happy with it [the soccer season], I wouldn't do it any other way," Kirlin said.
 These two players have been huge assets to the program and will be missed. However the Juniors becoming Seniors next year will make a very strong force, and it will be exciting to watch their performance on the field next season.    
"I'm pleased with the boys, their development was good. We had some tough matches that we had to come back from with character and we did. I couldn't be more proud." Wooldridge said. 
Leave a Comment