Arts and Rings, Among Other Things
The Jewelry and Metal Art classroom is home to one of the more unique courses offered at CHS. The class is focused on student freedom and choice. It has a very relaxed and calm atmosphere, with dozens of students working on separate projects. The students in the class are just as interesting as the assignments they are working on.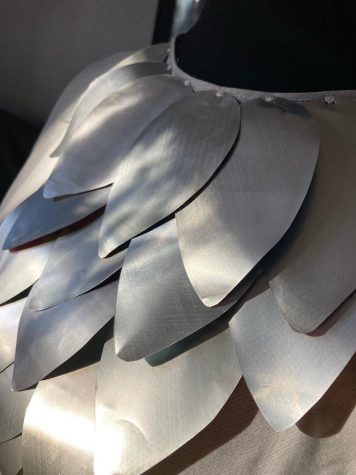 Junior Ainsley Clagett is a skilled and passionate seamstress. She has worked in the Jewelry and Metals arts class for several semesters and has been working on her sewing for even longer. 
"I've been sewing for most of my life, and I have been working professionally for about a year," Clagett said. "It's a family thing."
Clagett has been working on a sewing project that includes unique and unusual materials that are not often thought of as items to be used in dressmaking. Her current project is in progress and looks similar to a suit of armor, with silver paint and a texture that looks vaguely like chainmail.
"I am working on a dress project using recycled materials," Clagett said. "I'm using an old sheet as the base fabric, some of the other stuff is recycled leather from an old chair and then the scales are made from old cans,"
That's right, scales. It was inspired by Joan of Arc, whom Clagett was making an english project about at the time. The idea for the dress came to Clagett in the middle of a completely unrelated science class. Clagett has high hopes for her career but is still uncertain about a few details.
"I hope to get a career in dressmaking," Clagett said. "It just depends on whether I'm willing to go to art school for that or if I can do it without a degree."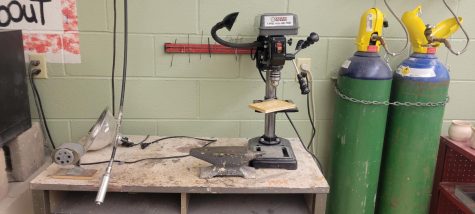 Sophomore Mason Risch stands at the back of the class, discussing  plans for future classes and projects with teacher Molly Snively. Risch has had much experience with this class with three semesters on his belt and has knowledge of metal casting, sanding, filing, molding, and others.
"You make something out of wax, like a basic mold for a ring," Risch said. "Then you put it in a mold and then you put the mold into an oven and it burns out the wax and you just have this mold."
Mason sees Jewelry as a fun and engaging class.
"There's still so much I want to do, even though I'm so advanced," Risch said. "It's just so cool to be like oh yeah, I made that, and see people's reactions. I'm going to be honest, this class was the only reason I came to school today," he added.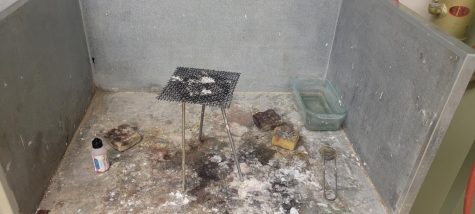 Sophomore Jade Jensen works on her rings, completely focused on the shape and wax in front of her as she morphs the material into the form she has in mind. The fact that she is working with such focus is made even more impressive with the addition of the headphones she is currently listening to Netflix with, which seems to only increase her efficiency.
"I began in my freshman year and I took it for one semester," Jensen said. "I'm picking it up again for this semester so I guess I have been taking this class for about a year."
She is working on two projects simultaneously: a wax ring that would be encased in liquid metal before it hardens, and a second ring that has an inlaid round stone inside. The process of inlaying the stone into the ring is known as a Bezel setting and is common in wedding rings.
"I work on several different pieces of metal usually," Jensen said. "You can cut them, shape them, polish them, which is usually done with a lot of sanding and filing so that you can get the right shape."
Once you get these basics down, Jensen explained, you can create practically any piece you want. The skill barrier is not an issue as students become exponentially better at creating what they wanted as they practiced.
"I absolutely love it, it's one of my favorite classes and it's pretty calming for me, surprisingly," Jensen said. "I feel like I can express my creativity very well."
Leave a Comment