Sustainable Sewing: Easier than it Seams
Sophomore Ainsley Clagett on making her own clothes, costuming, and taking a stand against fast fashion
An elegant skirt sweeps the floor, like something out of an 1890's movie, ready for a walk in the park or perhaps an afternoon of errands. This skirt, however, does not glide over cobblestones, but rather the familiar carpet of CHS.
"I tend to wear my walking skirts a lot out in public," sophomore Ainsley Clagett said. "I get comments all the time, and a lot of weird looks. Most of it's good."
Clagett sews the skirts herself, and they are just one project in a never-ending lineup. She learned to sew from her mother and grandmothers, and now makes a lot of her own clothing.
"To go out and enjoy something that you can personalize to you is something that, as a teenager, I think a lot of us lose," Clagett said. "We think we should conform, but we don't have to."
For Clagett, turning away from this conformity also means turning from the fashion industry's high-waste model of mass-producing current fashion trends. This process has been dubbed 'fast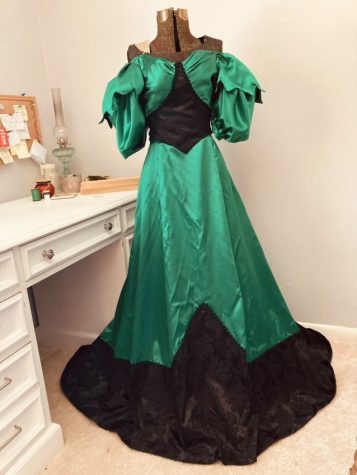 fashion.'
"If I can make something that I enjoy making as well as helping the environment and not contributing as much to fast fashion, it makes me feel better," Clagett said.
Her projects mainly use recycled materials, from bedsheets to old curtains. She finds the supplies at thrift shops or uses things that have been donated to her by friends and family members.
"I enjoy recycled stuff. I find that I place more value in," Clagett said.
This commitment to sustainability has earned Clagett respect within the community. Last year a particularly ambitious dress landed her a spot in Evergreen's highly competitive student art show.
"The dress was entirely made of recycled materials," Clagett said. "I was really bored and decided to take down my trampoline net during the pandemic, and made a dress out of that."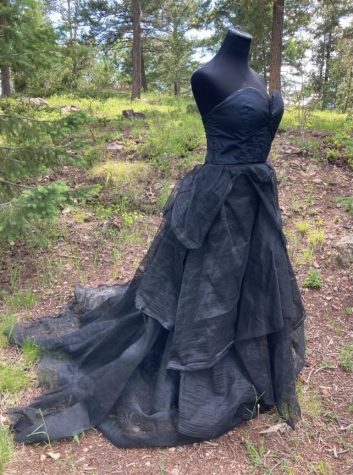 Working with these unusual materials requires extensive knowledge of different stitches and patterns, as well as the patience to troubleshoot when things aren't working out right, but for Clagett that's all part of the fun. Her current projects include a new cloak and a Halloween costume– she will be dressing as Professor McGonagall from Harry Potter. She also is working as the costuming director for the CHS Theatre Company's current show.
"Often I'm altering costumes so they fit the actors better, or trying to go find custom pieces," Clagett said.
This isn't the first time she's used her sewing skills to benefit others. Clagett has made alterations for prom and homecoming dresses, as well as a handful of other projects.
"I make dresses mostly as a hobby, but am trying to turn that into something more, perhaps a business, eventually," Clagett said.
For now, though, she is focused on keeping her projects fun. You can find her most recent creations on her Instagram account.
"I don't know if I want to turn this into something that would also be stressful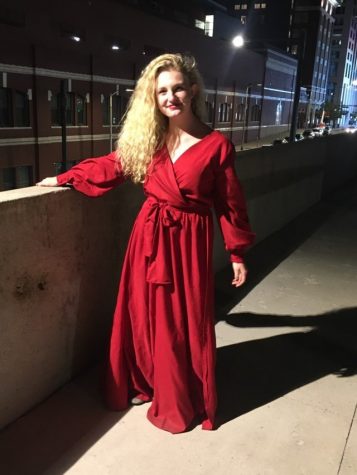 on me because this is kind of a reprieve," Clagett said. "I love it so much.
View Comments (1)