Meet Becky Paschke: World Traveler, Professional Musician, and New Activities Director at CHS
Please welcome one of our newest additions to the CHS family: Becky Paschke. She is one of the assistant principals and the new activities director. She is in charge of the many clubs, groups, after school programs, and instrumental groups here at Conifer. She has experience in public schools as a teacher, working at elementary, middle, and high schools.
"I've been a music teacher for my whole career, I started at Dennison elementary school and I was a general music teacher. I did that for nine years and then I transitioned into marching band and orchestra at both D'Evelyn middle school and D'Evelyn high school." Paschke said.
Paschke's time as a music teacher gave her experience working with students and teaching classes. This helped her develop a good sense of what students want from their time at school.
"I was there for six years until I realized that there always needs to be a voice and an advocate for activities and clubs, I thought that with my experience as a music teacher that I would be a good advocate for all activities at a high school," Paschke said.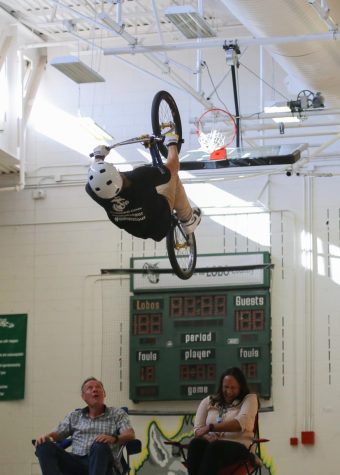 Ms. Paschke has expressed excitement about giving students the opportunity to show their interests and passions for something in a positive way. Although many clubs  have been created already, Paschke has said that she is very open to helping students organize a new club if they meet the pre-existing requirements.
As well as having experience working with schools, Paschke has an interesting background.
"I'm a Colorado native, I grew up in Colorado Springs and graduated from Air Academy high school," Paschke said. "Music has always been my passion so after high school I studied music education."
After her studies, Ms. Paschke joined the Blue Knights, a World-class Drum and Bugle corps. While in the Blue Knights, Paschke traveled all over the world to play.
"I got to perform in Bahrain in the Middle East, we were the first marching ensemble that ever traveled there. We also got to play in front of the king of Bahrain, which was something that was pretty cool," Paschke said. "We played at a Formula 1 race, which meant we got to play on the race track at the opening ceremony."
In addition to these, Paschke has played at Red Rocks, been on national television, and was featured in Biden's presidential inauguration parade.
Paschke has a word of advice for all of the students attending CHS:
"Take advantage [of the clubs] because you're going to be working for your whole life, but this is your time to be able to explore and maybe find something that you're passionate about that you didn't even know about," Paschke said.
Leave a Comment