Conifer Boys Soccer Making A Comeback
Conifer Boys Soccer is back and in just 2 games, the Lobos have already beaten their previous season's record, which was a crushing 1-13-1. With the strong 6-0 win against Widefield August 20, and the win against Alameda August 24, the boys are looking forward to a strong season. 
"I think it's gonna be one of the best seasons we've had in a while, so hopefully we will make it to playoffs," senior Maddox Rife said.
The Lobos started the game in a 3-4-3 formation but were matched fairly well by Alameda. Neither team could maintain possession throughout the first half, but there were various shots on goal for both teams. Alameda had a couple of breakaways that were stopped by strong slide tackles by Will McIntosh, the Lobo's center back. After a hard battle, 24 minutes in, Rife managed to find the back of the net, pulling Lobos into a 1-0 lead. However, their intensity dropped off after they scored the first goal. Alameda took advantage of the relaxed play and scored a goal 11 minutes later, tying the game at halftime. 
"We started slow, we weren't finding feet and playing as dynamic, and we didn't do our high press as we needed to," Coach Jason Wooldridge said. 
During halftime Wooldridge talked to the team about increasing their energy and getting back into this game. With various violent fouls, injuries, and a missed penalty from Alameda in the second half, the game was still tied up. It took another Alameda goal to turn the team back on. With only 9 minutes left after Alameda's goal, Conifer was forced to give everything they had to level the game. Their intensity built up multiple plays until Grant Kirklin scored with 2 minutes left in the game. Using the momentum, junior Dak Reynolds scored off of a rebound from the keeper with only 38 seconds left in the match, putting Conifer ahead. But due to an offsides call, the ref took back the goal, sending the two teams into an extra 10 minutes of overtime to determine the victor.
With everything on the line, the intensity was high. After fighting long and hard, Conifer managed to get their well-earned goal, when Rife scored his 4th goal of the season with only 2:34 remaining. 
"We always turn things back around at overtime, we reacted appropriately and kept the high pressure," Wooldridge said. 
With such a tough season last year, things finally seem to be turning around for Conifer. Their improvement is partially due to Senior Grant Kirklin, who came back to play with Conifer this season after playing for the competitive club Real these past few years in order to be scouted for college. However, Kirklin wanted to return home to the Conifer team for his Senior year. Kirklin has exceptional skills on the ball and good recognition of space. He has had one goal and two assists so far this season.
"It's different coming back to Conifer and playing high school with the different play styles but it's definitely a lot better. It's a lot more down-to-earth playing here than at a big club," Kirklin said.
While Kirklin may be a great player, as the saying goes, there is no "I" in team. Every player has developed and grown over the past couple of years. Conifer started with an incredibly young team and had very few victories, but the hard work is paying off as the team ages and improves.
"This is the beauty of taking young players and having a progressive program and still continuing to develop. Staying with the program just shows that we can turn things around and become stronger and stronger," Wooldridge said.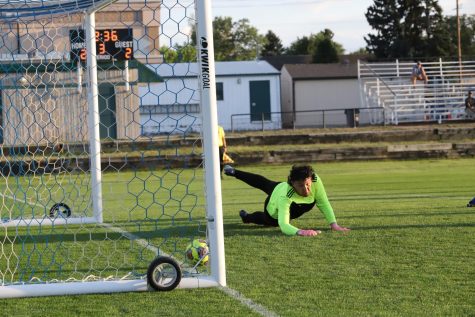 The Lobos have high hopes for the rest of the season. Their main goal is making it to playoffs. Though it will be quite difficult, it's not impossible, and the team has a drive to win. This year, they are in it to win it. 
"It's always about playoffs, and this year I think we have a chance," said Wooldridge.
Leave a Comment