Conifer Boys Basketball Gets Second Win of the Season
The Conifer Boys Varsity Basketball team was able to get their second win of the season against Alameda on Monday, January 24.  This was their first win since Friday, December 10, against Summit in the Steamboat Springs Tournament with a score of 63-47.  
One player on the team, junior Ethan Fox, commented: "We played well and I'm proud of the entire team."  The team has six games left this season to get a few more wins and continue to make improvements to both their offense and their defense.  
So far this season, they are averaging 43.9 points per game; however, they are giving up an average of 71.9 points per game.  While they are definitely productive on offense, their progress is not being matched by their defense, resulting in games that get away from them very quickly.  In their losses, they have lost by an average of 28.6 points per game.  Thus, it is evident that they are losing by large margins due to their lack of defense. 
It must be considered, however, some of the teams that they have played this season.  For example, Conifer has gone up against D'Evelyn twice this season, who have a 12-4 record and are second in the 4A league this season.  D'Evelyn beat Conifer in their first game 78-37 on Monday, January 10, followed by an 81-36 loss on Friday, January 28.  Conifer also played Wheat Ridge on Wednesday, January 26, and lost 72-47.  
Senior Cole Dunivan said in regards to this game, "We had a really tough first quarter and about 13 turnovers."  It was definitely a rough game coming off their second win.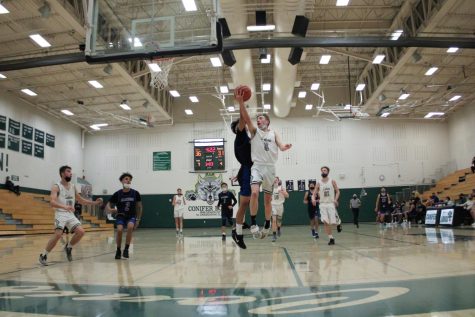 Their next games will be against Green Mountain on Monday, January 31, followed by Standley Lake on Wednesday, February 2, and Littleton on Wednesday, February 9.  Their games against Standley Lake and Littleton will be played at home, while their game against Green Mountain will be an away game.  The games against Green Mountain and Standley Lake will be rematches, where they lost the first time.  Conifer has not yet played Littleton this season.
Leave a Comment