CHS sees funding decline as enrollment drops 7% in two years
Teachers face job insecurity, pushed to part-time positions
Almost 7% of Conifer High School students left the school during the past two academic years, which has cut into the schools' funding and left the administration with less money to pay teachers. 
Teachers are working multiple positions or have had their hours reduced, while administrators are not filling vacant positions as employees retire – and the situation is only expected to get worse in the coming years as enrollment decreases. 
"It's put a lot of strain on other teachers to pick up the slack of the part-time teachers when we aren't available," said Brian Bunnell, an AP Chemistry teacher who reduced his hours this year.
CHS had 873 students during the 2018-2019 school year, before the pandemic, and has lost 60 students since then. This may seem like a small change, but the money the school receives from the district is based on how many students are enrolled at CHS.
This year the school received $5,130 for each student at the school, meaning that in the past two years the school has lost hundreds of thousands of dollars in funding. Enrollment is expected to continue decreasing in the coming years.
This year's graduating senior class includes 201 students, but the current 8th grade class at West Jefferson Middle School, the only feeder school for CHS, is 177 students. The school will need to recruit another 24 students to meet current enrollment numbers.
"If I don't have 24 students… that's one teacher reduction," CHS Principal Wesley Paxton said.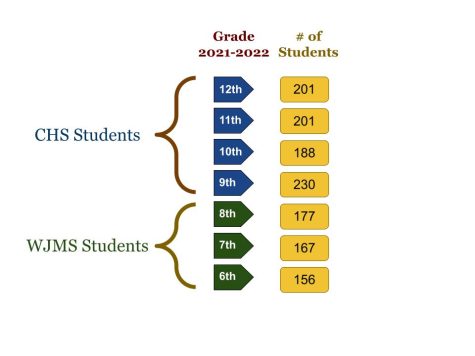 Paxton explained that these cuts in funding are hitting Conifer particularly hard because it is one of the smallest schools in the district, which makes it more expensive to operate. For instance, a school twice Conifer's size would need to hire the same administrative team, but those employees would be supported by the funding of almost two thousand students instead of Conifer's 813.
Conifer also does not receive Title I funds, which are based on the number of students receiving free or reduced lunch, or Title IV funds, which are determined by the number of second language learners at a school.
"We need to have a larger per-pupil funding to support the programs we have here and the increasing need for additional supports, like mental health specialists, additional counseling services, and administrative services," Paxton said.
Paxton will be meeting with the district superintendent to discuss the need for greater per-pupil funding in small schools, but in the meantime is reaching out to the community in an effort to recruit more students.
Decreased enrollment has forced seven of Conifer's teachers to teach classes part-time this year, two of which have taken up positions in the library or as technology support in addition to teaching classes so they can still be employed full time by the school. Four of these teachers are in the science department, including AP Chemistry teacher Brian Bunnell.
AP Chemistry is one of the most challenging AP classes, and because Bunnell is only at the school on "silver" days of Conifer's block schedule, students are struggling to get help outside of class.
Senior AP Chemistry student Haylee Williams talked about how the only time students can get help from Bunnell is when he is teaching other classes because he has no free period and is not at the school for "green" block days when students have Seminar.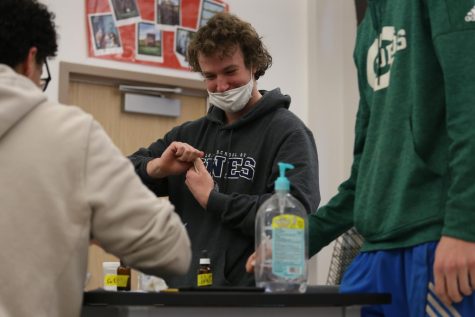 This is also difficult for Bunnell, who must plan for his classes on his own time.
"On the late start [green day] Wednesdays I'll be here anyway for our meetings, and then I'll just stay for several hours and work on planning, prepping labs, and grading papers," Bunnell said.
He volunteered for this part-time position when the school needed to decrease their spending, but Bunnell's ability to return to a full-time position next year depends on both total school enrollment and how many students signed up for science classes during registration last week. 
However, even with unknown enrollment numbers for next year, Bunnell is not afraid of being laid off.
"We all know that we're going to have a job, it's just that we don't exactly know what that's going to look like," Bunnell said.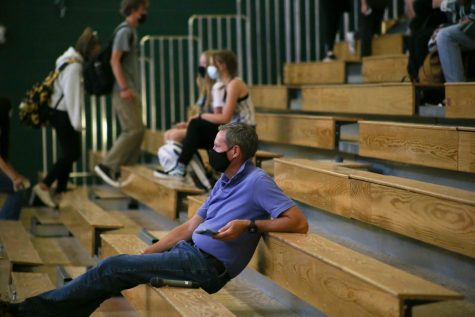 Across the district decreasing enrollment is threatening schools. In the past five years 7,600 students have left Jeffco, resulting in funding cuts up to $60 million. For reference, the Jeffco district has a budget of $1.42 billion this year and Conifer has a budget of about $4.9 million.
This year alone Jeffco received a decrease in state funding of $34 million, or $662 per student, according to the Colorado Department of Education (CDE).
The CDE expects that enrollment will increase in the next few years as students who transferred to online schools during COVID-19 return to in-person schooling, but we have yet to see if this increase will affect Conifer. 
"Whatever happens with COVID is a nuance we've never had before, so it's really impacted my projections," Paxton said.
View Comments (1)