Conifer Girls Basketball Having a Rough Season
Things are not going the way the team hoped for the Conifer girls basketball team this season.  So far they have not won a game.  They played against Wheat Ridge on December 21st and lost 46-19.  Coming back from winter break on January 5th in their first home game of the season, they managed to put up more points against Standley Lake with 26 points.  However, they still lost the game as Standley Lake scored 69 points.  This was followed by playing Green Mountain on January 7th who won in dominating fashion, 85-12, and D'Evelyn on January 11th who also won 78-6.
While the team is still looking for their first win of the season, there are signs of improvement on the offensive front.  In their first five games, they had a total of 67 points, with 36 of those points coming in their third game against Steamboat Springs on December 9th.  The next four games they had after that, they averaged 22.75 points a game, with their lowest score in that period being 19 points against Wheat Ridge.  
"We have been working on plays and just getting those down.  We're starting to show some things with those on the court," junior Maya Dawson said.  Despite that, they hit a bit of a slump against Green Mountain and D'Evelyn, scoring a total of 18 points.  However, it should be noted that these are some of the top teams in the division with Green Mountain being undefeated and D'Evelyn only having lost one game this season.  Nonetheless, it is still apparent that Conifer needs to see development on the part of their defense.  Over their first eleven games, they have given up an average of 59.4 points a game.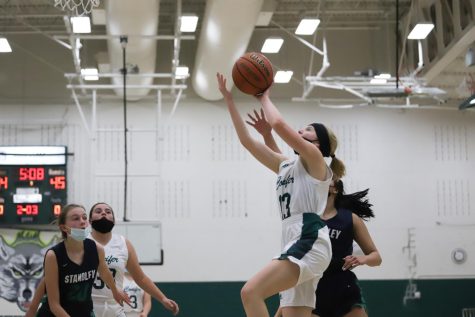 Their game against Littleton on January 14th was canceled due to the weather.   So, their next two games will be against Golden on January 19th, followed by Evergreen on January 21st.  These games will mark the first time this season the Conifer girls basketball team has had back-to-back home games.  The team will be looking to show some growth on defense and continue to make progress with their offense, as well as get their first win of the season.   Senior Ana Satchell expressed that the team is, "starting to come together," and hopefully that will reflect more on the court.
Leave a Comment