Taking It To Nationals
Conifer students compete at AVP East Coast Championships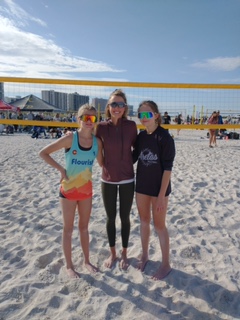 Freshman Kate Horneck and 8th grader Sage Roeder traveled almost 2,000 miles to play in the AVP East Coast Championships over Thanksgiving.  The young players worked hard while competing against teams they weren't familiar with.
"It's a national championship and AVP is like the NFL but for beach volleyball.  They have adult leagues and junior leagues.  We're in the Junior league.  For this tournament we had to win a bid to get the opportunity to go," Horneck said.
Horneck and Roeder worked hard before they left, focusing on their teamwork and individual skills.  They just started working together as a beach team this year.  
"To get into nationals we had to win a tournament first. I didn't get to play with Kate during the tournament,  but in order to go to nationals, I needed a bid. I got put in an 18u tournament which meant I was playing against people five years older than me and I knew I had to do my best," Roeder said.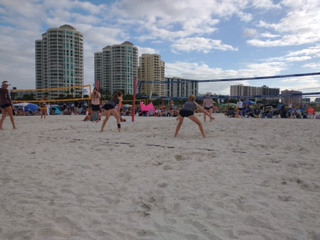 Before they left for Florida, Horneck and Roeder focused on their improvement.  
"I have been working on my serves and cooperation with Kate so we will be a good fit for this. I have also been working on my skill so I can be more tricky and smarter with my shots," Roeder said.
Even though they didn't win as many matches as they wanted to, both Horneck and Roeder learned a lot from the experience.  They were competing in the 16u group, which meant they were playing teams older and more experienced than them. Horneck recognized a type of connection between the other teams that she wants to develop with her teammate.
"Competing against better teams made us a much better team as well, and we had improved so much by the end of the day Sunday," Horneck said.  "It was great to be in an environment where everyone loves beach volleyball; you don't find many people in Colorado who play at a level as serious as that."
The opportunity to compete at nationals positively impacted Horneck and Roeder.  They were able to experience a different level of competition and they got to play in one of the most competitive settings of their lives.
"I loved going to Florida. I had a blast playing on the beach and hanging with my best friends. This experience was super awesome. I love going out of state and going to national tournaments. When I go to tournaments like these it makes me want to work even harder," Roeder said.
The new environment was a change for the girls.  They both played indoor volleyball during the school season, so there were challenges they had to work around. 
"One big challenge we had to overcome was the wind. Sage and I are both indoor players, so adjusting to the wind was a big struggle. Our setting was particularly difficult because we couldn't set each other too high or the ball would drift in the wind. At the end of the tournament, we were finally setting each other at a good rhythm and now I think we both feel more confident about playing with high wind," Horneck said.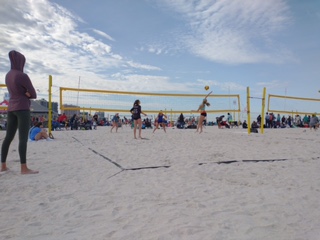 Roeder and Horneck both discovered more about volleyball and themselves.  Horneck was able to learn about the higher skill required to compete at the collegiate level and they both learned about the mental motivation required to play.  
"I learned that if you go to something you are nervous about you can do your best and good outcomes will come. I definitely improved and learned a lot of stuff from older people," Roeder said.
View Comments (1)