Local Theaters Are All Together Now
The Conifer Theater Company's production "All Together Now" raises money for the arts
Broadway songs have been performed for the first time at Conifer High School. The Conifer Theater Company (CTC) unveiled its latest production "All Together Now" last Friday, November 12. This show is different from the usuals as this is a collaboration between the three different local theater companies in Conifer to raise money for the arts at CHS. This was made possible after the theaters secured the rights to perform many popular broadway songs.
"We have been actively preparing for this [show] for about six weeks and have been in the pre-planning phase for a couple of months," Theater and Choir Head E.P Archer said. "The Venue Theater and the Stagedoor Theater are collaborating with the CTC to make this show. 
This type of collaborative production has never happened in Conifer before, but the director of the CTC has had experience doing these types of shows in other areas. 
"This is because a lot of our students were clamoring that our local theaters are like a family and that we should do stuff together, and after the pandemic hit we got free rights to a musical review from [Musical Theater International] to get us back on our feet, and we named the show All Together Now!" Archer said.
Conifer's theatre club and class are teaming up to put on this production.
"On average it takes about 30 people to do a show and then, for the CPAC, which is the performing arts club of CHS, we have about 20 members, so we have those as well," Archer said.
All Together Now included songs from various shows, musicals, and productions that would normally have been extremely expensive to gain access to. But with the free rights MTI granted the theaters, they were able to perform hit tracks from Green Day, Newsies, and Les Miserables, among many others. Cast members were excited to hear some of their favorite songs being performed at their high school.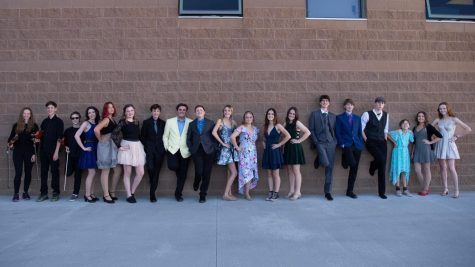 "I would say that my favorite song in the play was Take a Chance on Me from Mamma Mia," Soundboard Manager Payden Devaney said.
"My favorite song would probably be Empty Chairs at Empty Tables from Les Miserables," stagehand Devon Ellison said.
The entire production was funded by the three theater companies. CTC donated the tech and equipment needed to put on the show and the others helped pay for set pieces, costumes, and miscellaneous items.
The theater companies are hoping that this show will raise enough money to cover the cost of their operations through the fall. Funding is a prime concern for theaters such as the CTC, which is a non-profit organization that relies on donations to survive. Equipment is also a big issue, as most equipment used is outdated or donated from other sources. Other challenges often encountered in collaborations like this were also present.
"We have lots of people in charge, and having everyone work together and communicate is difficult, but in the end, I think that we can be proud because we can say we all did this in tandem," Archer said.
Reaction to the production was overwhelmingly positive, with many cast members already excited for the CTC's next show in the spring."It was a very fun and rewarding show working together with the other theaters," actor Matthew Fletcher said. "I especially liked doing Seize the Day from Newsies, it showed how great this show was and how hard we worked on it."
Leave a Comment