Lady Lobos Volleyball Parent Appreciation Night
The CHS Volleyball program had their parent appreciation night on Tuesday's game versus Green Mountain. The final score was 1-3, giving the win to Green Mountain.
Sports programs at Conifer High School are primarily run and supported by the parents of players. This year, parents of Lady Lobos Volleyball players have been carpooling, planning events, providing funding for snacks, bringing coaches dinner at home games, and volunteering for work positions at home games.
"Volleyball is kind of an animal unto itself because we need to provide refs, line judges, three people to run the clock and the score sheet, and the libero tracker," Head Coach Laurie Eddy said.
Parents of Levels 3 and 4 were recognized for their contributions to the program after the L3 game, and JV and Varsity were recognized after the JV game. When a player's parents were announced by one of the coaches the player presented them with a flower, a personalized letter, and some chocolate.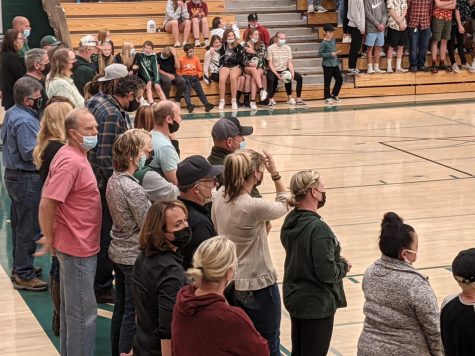 "They're kind of like the glue. You don't see them a lot, but they're kind of everything in between that helps the program stay together," senior Varsity Libero Marina Cadilli said.
This year, because of staffing shortages for bus drivers in the district, parents had to drive L3, L4 and JV players down and back from most of their games. Without parents many players would not have been able to attend away matches.
"It's huge, and we can't do it without the families," Eddy said.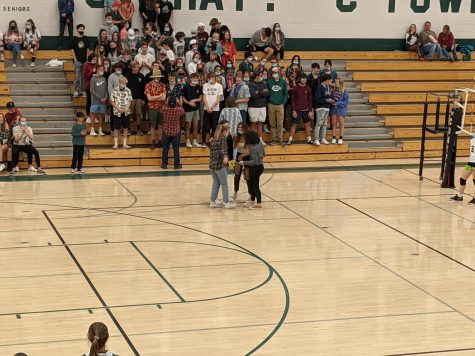 Last night's game was also fan appreciation night. Every home game there is a sizable crowd of Conifer High students cheering on the program. Fans participate in cheers and bring up the morale of the players.
"The fans are one of my favorite parts of playing high school volleyball games," Cadilli said. "They help bring the atmosphere that you can't find in other places. I play club ball and it's not the same."
The Lobos won the first set 25-23, lost the second 21-25, lost the third set 9-25 and ended the game with a loss in the fourth set, 14-25. In true Green Mountain fashion the game did not conclude until ten at night. Though they lost, the atmosphere was one of cheer and support. The team's last game is on Thursday versus Standley Lake and is an away game.
"I think the girls should be very proud of the season they had," JV parent Jennifer Meyers said.
Leave a Comment