Volleyball Faces the Denver North Vikings
Varsity Volleyball loses to Denver North Wednesday, September 1st
Conifer Varsity Volleyball lost to Denver North Vikings 1-3 on Wednesday, September 1st. The first set went to Conifer with a score of 25 to 19. They lost the last 3 sets with the following scores: 17-25, 23-25, 8-25.
"They didn't stay mentally tough. Even though they were playing positions they were prepared for, they kind of freaked out," Head Coach Laurie Eddy said. 
Kate Horneck, a Freshman swing player on Varsity and outside/right side hitter on JV, had a similar sentiment about the loss. "We just kind of fell apart as a team," Horneck said.
During the first 3 sets of the game Conifer stayed competitive, never losing by more than 8 points. By the last set they fell apart, barely making 8 points to end the game. Eddy said this was due to several health issues and injuries on the team. Setter Cora Spencer, a junior with diabetes, had her glucose number fall and had to be pulled out of the game. Another player, Outsider Emily Gnuetchel, is coming back from a TI infection and was only able to practice once before the game. Eddy was forced to make some pretty drastic changes to the rotations in her absence.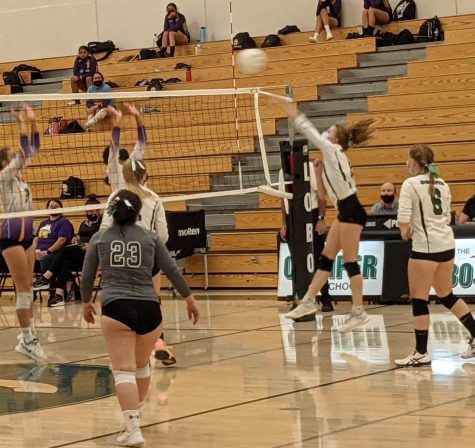 Even though the Lady Lobos lost, there were two players in particular who outperformed themselves and kept the team together for most of the game.
"I just have to say that my captains rallied and did everything they could to make it successful, it's just that they didn't have enough by themselves," Eddy said.
Eddy's captains are Libero Marina Cadilli and Middle Blocker Elise Clark. "They're the glue for our team," Eddy said.
Cadilli can be seen throwing herself to get the impossible shot, trying to make every play into a good one. Clark, an offensive player, never fails to get her hands up and hit. Even when the set isn't perfect she finds a way to adjust and make something of it.
Since last week's win against the Pomona Panthers the team has been working hard in practice to increase the pace of their game. 
"We've really been working on hitting specific shots for the game and going against our opponent. We want to hit the deep corners on the court where the other team isn't," Clark said.
Despite the loss, the things that Clark mentioned they were practicing could be seen during the game. It was fast paced and exciting and the student section could be heard louder than any of the Denver North teams combined.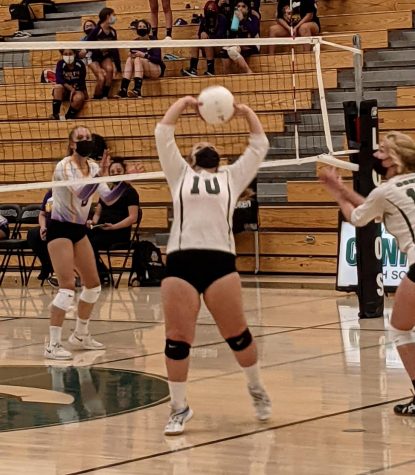 "I really like the game because the fans really elevate the level of our play and you can see it in all of the girls, they really want to play their best and they're putting their full effort forward," Clark said.
Despite the unforeseen complications the varsity team managed to push the game to 4 sets. Unfortunately the team was unable to rally in the 4th set to bring the game to a final 15 point set. Wednesday's game officially makes their current season record 1 win and 3 loses.
"You don't expect a diabetic to start having her numbers fall that quickly and have to be pulled. It is what it is and you try to respond," Eddy said.