Boys Basketball Ends the Season as League Champs
Loss against Pueblo South wraps a successful season
The varsity boys basketball team won 57-49 against Pueblo County in their first playoff game of the season on Wednesday, February 21. Their season came to an end on February 24 when the team lost to Pueblo South.
   After falling eight points behind in the first quarter of their first playoff game, the team jumped into gear and was eight points ahead by the end of the third quarter, 40-32.
    The fourth quarter filled the gymnasium with tension as the teams bounced back and forth with two- and three-pointers, Conifer maintaining a slim lead. The game was all but called with a minute still on the clock when the Lobos were ahead by seven points. A final free throw sealed the deal, and fans and family members charged the floor to celebrate a win for Conifer.
    The next playoff game took place Saturday, February 24 at 1PM against Pueblo South, an away game. This game determined whether the team would move on through the brackets to the next stage of the playoffs. A spirit bus took a group of students to cheer on the Lobos. The team sadly lost, 32-67.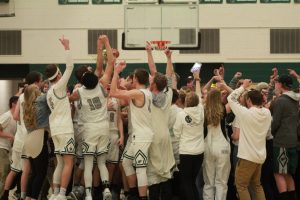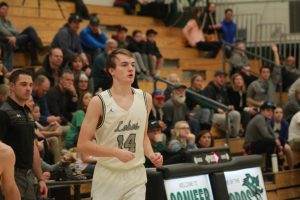 Leave a Comment