Trick or Treat Street at Conifer High School has become a popular tradition for the mountain community. At Trick or Treat Street multiple Conifer school clubs come together to organize a booth for their organization. These clubs include DECA, band, newspaper, peer counseling, HOSA, etc. Clubs set up one or two tables with multiple decorations, games, and usually a theme. These themes include graveyards, beaches, pumpkin patches, haunted forests, and more. The students in the club volunteer to set up, hand out candy, play games, and clean up. The event lasts from 6:00-8:00 p.m. in the Conifer High School commons, hallways, and auxiliary commons. This year the event was on October 27th after school.
The event this year was made possible by the high school's Assistant Principal, Becky Paschke. This is her second year planning this event.
"Due to our smaller town of Conifer, we really are the hub of the community and so being able to have elementary school kids, middle schoolers, and even high schools volunteering and just everyone being involved in this event, bringing the community together. It's something that's really meaningful for those who live here," Paschke said. 
Although only two hours, the students at Conifer are sure to have multiple games and activities for their kids, such as corn hole, robots, musical chairs, passing out candy, and more.
This year Conifers clubs were able to collect around 260 pounds of candy for the kids.
"I mean the worst part about coming is we take too much candy home," parent Wendi Van Lake said.
The candy is provided by booth runners, administrators, as well as donations from club members. 
Some parents have been going to this event for multiple years while others have been here just a few times. Families typically spend around 30 minutes to an hour playing the abundance of activities the event has to offer and collecting pounds of candy from all booths present.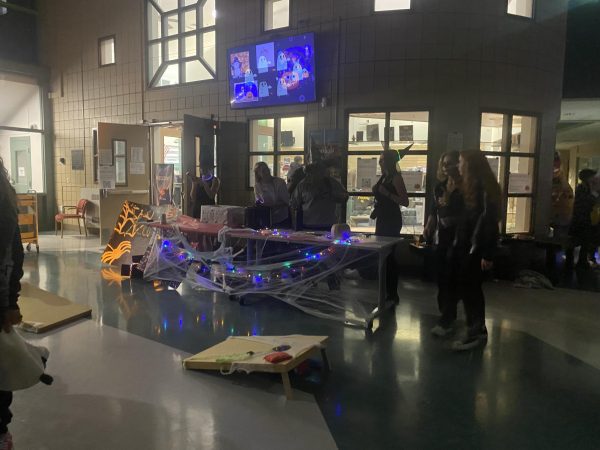 "After coming here for 3+ years my favorite part is how my community is here. I love how the high schoolers are here," parent Megan Walker said. "I love seeing all of our neighbors and I mean you can't pass up candy." 
Conifer High School plans on continuing the tradition of Trick or Treat Street and bringing the community together for the holiday next year.
 "I would guess this was started to provide an opportunity for the mountain kids, it's really hard to trick-or-treat because everyone lives so far apart. And so this is a centralized location. And this is where most of the kids will eventually go to high school. Which really ties the community together," Paschke said. 
Trick or Treat Street booth members are run by the students themselves with their club directors. This year the yearbook student staff set up a booth with the theme of witches and haunted houses. Liberty Belloti is a freshman on the yearbook team and volunteered for Trick or Treat Street and plans to come again next year.
"It was so fun. I mean half of the booths are like 'Take a handful!' 'Take two.' 'Take three handfuls' and the kids are like, 'Oh my God!' It's great, I'm excited to come back next year," Belloti said.