Ringing the Bell
Conifer's track team takes on one final performance before their League Meet
On April 28th and 29th, members of the Lobos track team competed at the Liberty Bell Invitational, located in Littleton, Colorado.  Heritage High School hosted Liberty Bell, with a total of 57 teams in attendance, marking it as the biggest track meet of the year for Conifer students.
"This was a weekend where a lot of teams put their best foot forward and took their shot," said Head Coach Brian Stotts.                  
What Stotts means is that many schools ran their fastest members in an attempt to pursue a state qualifying time, something several Conifer also athletes attempted.
One such state qualifying attempt was the girls 4×800.
The girls collective 4×800 time – ran by Audrey Vanwestrienen, Evelyn Bly, Gianna Cicora, and Kate Horneck – sat at a meager 10:42 before Saturday morning, far from any state qualifying standards (The top 18 times in the state will go to the state meet in late May).
After Liberty Bell, however, the girls ran a time of 10:22, seeding them with the 17th fastest time in the state.
"The goal for us was to take 5 seconds off our split times from the previous race," Horneck said.
The girls took 3rd in their heat, and 17th overall at the meet.  Additionally, this was the second fastest girls 4×800 time for CHS since 2018, and the third fastest time since 2006.
Horneck also ran the individual 800 on Friday night, with hopes to qualify for State.  A sub 2:22 performance would have the potential to make Horneck statebound.
Horneck ended up running a 2:25, taking 21st place, and securing a two second personal record.  "It went okay, not the greatest, but pretty good," said Horneck.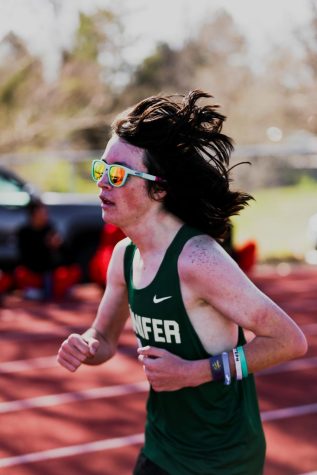 Senior Wyatt Bly also took his shot at a state qualifying time in the 3200m on Saturday morning.
"My biggest goal for Liberty Bell was to qualify for state," said Bly.  Bly ended up running 9:56, a 3 second pr, however, he still lies several seconds outside of a state qualifying time.  
"Obviously that did not happen, but I believe this is a sport where if you don't aim high, you won't get better at all," Bly said.  
Standout performances from the meet include freshman Kyler Boymel breaking the 5 minute barrier in the mile and running the second fastest mile ever run by a freshman in Conifer history.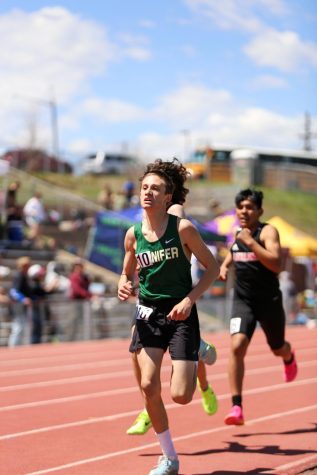 Conifer sets its sights towards League on Wednesday, May 3rd and Saturday May 6th, where they hope to have several more attempts at state qualifying times and potentially produce some League Titles.
Leave a Comment