Conifer High School 2022 Athletic Commits: Where Are They Now?
On April 14, Conifer student-athletes will be participating in a signing day ceremony to commemorate their commitment to various college sports programs.  Last year, Conifer had 10 student-athletes commit to higher education institutions. Conifer student media got in touch with four of these 2022 athletic commits to catch up and see how college life is treating them.
Isaac VanWestrienen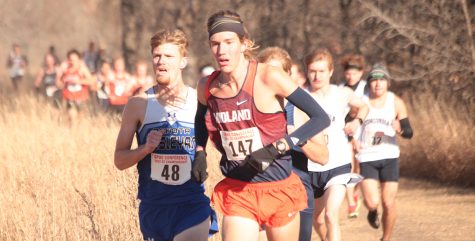 Isaac VanWestrienen committed to run cross country and track for Midland University in Fremont, Nebraska in the fall of 2021.  VanWestrienen plans on majoring in exercise science and going to graduate school to specialize in physical therapy for runners.
In VanWestrienen's first collegiate cross country season, he did not achieve his two big goals of finising in under 26 minutes in the 8000m and qualifying for NAIA nationals as an individual.
"At my conference meet I was right on pace to achieve my goals through 3.5 miles but then I started dry heaving and fell apart," VanWestrienen said.  
VanWestrienen ended up finishing 25th, missing the mark for nationals. Despite this, he was the 3rd fastest freshman on the field.
During Midland's indoor track season, VanWestrienen went on to take 10th at Conference in the Mile, and 9th in the 3k.
VanWestrienen would go on to have a breakthrough performance and shatter the school's 10,000m record, running 31:09 and qualifying himself for Outdoor nationals. 
"I would still like to qualify for nationals (in other events) and hopefully get a few (more) school records which with more experience should be very doable goals."  VanWestrienen said.
Despite VanWestrienen's breakthrough first year at Midland, he has decided to transfer to Cornell College to continue his academic and athletic career.
 "After one semester I realized that I was looking for some more out of my college experience.  Namely, I am looking for a bigger and tighter-knit team with some more challenging academics," VanWestrienen said.
Story Halbert
Story Halbert signed to Hastings College in Hastings, Nebraska last year to play baseball at the NAIA level.  Halbert signed with Hastings because he got the Scott Scholarship, a Nebraska-specific scholarship.  Halbert plans on majoring in Biochemistry with hopes of attending graduate or professional school following his undergraduate.
Despite not starting on varsity his freshman year, Halbert has played several JV seasons and will continue to compete at the JV level in the NAIA, a unique addition to only NAIA teams.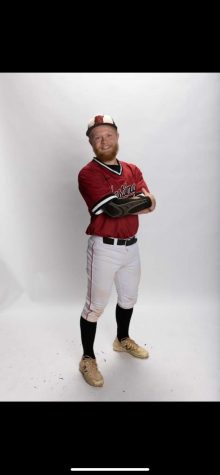 Halbert, one of the few 5'5" baseball players in both the NAIA and NCAA, holds lots of pride in his ability to play the sport at a higher level.  
"This team is sleeping on me, it will take some time for them to realize, but it will happen," Halbert said.  Halbert says that being one of the few 5'5" baseball players in both the NAIA and NCAA instills a confidence in him that pushes him to be the best player he can be.
Halbert does miss the mountains and trees of Colorado, however, he finds silver linings in the food and hospitality of Nebraska.
"Food is a hot topic here.  I personally love Blue Fork Kitchen, however, a lot of my teammates will kill for Tony's Tacos.  Dally's Deli is also a solid choice for a quick on-the-go sandwich," Story said.  Story additionally notes that the highways in Nebraska are much more well kept and maintained than Colorado, and that mostly everyone in Nebraska is very nice.
Story has hopes to apply and get accepted into Med-School, and aims to play at the varsity level on his team.
Anastasia Satchell
Anastasia Satchell committed to Pfeiffer University, in North Carolina, to play soccer at the Division 3 level, and is currently an undecided major.  
"I'm searching for something that I am really passionate about to study," Satchell said.
Satchell says that this year the season wasn't the best for the team, however, she got the opportunity to start every game.
"My fitness is the best it has ever been," Satchell said. "I definitely want to improve on my ball skills and one vs. one skills."
Despite signing with the intention of only playing soccer,  Satchell has found herself on the women's lacrosse team.  As that season comes into full swing,  Satchell hopes to grow herself in a completely new sport, and gain some confidence leading into soccer later in the fall.
"I hope with my college career in front of me that I can become a leader in both sports and break records,"  Satchell said.
Sophie Morriset
Sophie Morriset committed to Lawrence University in Wisconsin for hockey.  She chose Lawrence over the University of Utah, New England College, and Lebanon Valley. Initially, Morriset was a biology major and planned on entering the Pre-Med field, however, she changed majors and is now focusing on a Business Analytical and Entrepreneurship major.
"Following my degree I would like to help build girls hockey across the nation and be a bigger part of the hockey community, hopefully working on the marketing side of it," Morriset said.
Morriset's first season was far from what she expected, facing injuries and setbacks along the way.  
"I was out for an Achilles injury twice and ended the season with a dislocated shoulder and a concussion,"  Morriset said.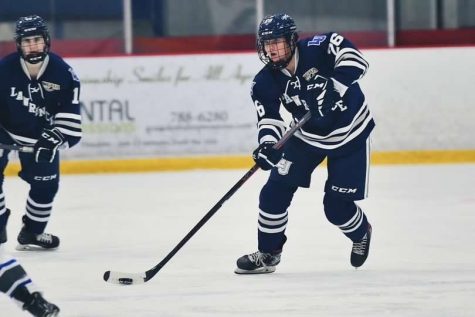 Additionally, her coaches were new to the college scene and had only previously coached in a club environment.
"As a female hockey player I don't have as much time to compete in my sport as other athletes do, so my big goal is to enjoy the rest of the years I have left being able to play competitively," Morriset said.
When studying, Morriset finds she best focuses at the Tempest Coffee house.  "It's a great place to study and it's right by the river." Morriset said.
Later on in the day, if she's particularly hungry, Morriset says that Sal's Pizza is one of the best spots for a meal in town.
As a message to those about to embark on their collegiate journeys, Morrisett emphasizes to "enjoy college life.  As much as you want to compete with the best, make sure you're in good mental and physical health and be a college student and get the college experience.  You are only young for so long, so enjoy that freedom you have."
Conifer's signing day for the class of 2023 is on Friday, August 14th in the gym. 
Leave a Comment