"A Building Season:" Girls Tennis seeks to make sport fun, approachable
Girls tennis had their first win of the season April 6 against the Alameda Pirates after facing weeks of partial indoor practices due to snow covering the tennis courts and low temperatures, bringing their season record to 1-3.
"It's a building season. I think, to some degree, it's trying to get more girls interested in the sport and to keep them interested in the sport," Head Coach Theresa Gromko said.
This year the team has 17 players, including three seniors and one junior. Gromko sees the young team as something that will bring depth to the program in the years to come, and hopes to increase numbers in the future so the team has a full 11 members on both the JV and Varsity teams.
Team members say Gromko's efforts to make the sport approachable to new players are working.
"I think it's really fun. You know, I just started today and I'm already doing pretty good," freshman Anna Louderback said. "It's really fun to meet a lot of nice people and the coaches are really good."
This is Gromko's first year as Head Coach, and she hopes to share her love for the sport with players while emphasizing the importance of finding a balance between academics and athletics, as well as the importance of teamwork.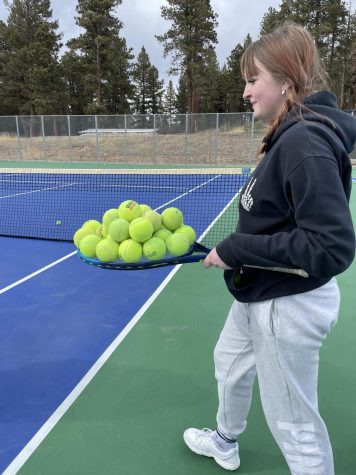 "I played tennis in high school, middle school, and I still play tennis… it's a sport you can play late into your life and it's great for building friendships with people," Gromko said.
Gromko is aided by Assistant Coach Bill Ross, who spoke about how the team is making notable progress despite the difficulties presented by Conifer's spring weather. The team's first match against Evergreen High School on March 30 was marked by 50mph winds and snow, "but the last week has been really good," Ross said.
At this point in the season, the team is mainly working on fundamental skills at practice, including forehand and backhand strokes and footwork.
"I think that part of the development of a good tennis player is to be able to focus on the process of playing and not focus too much on the result. If you're having a bad day, think about ways you can improve that day and then eventually, over time, it will build," Ross said.
The coaching staff is teaching their players skills that go beyond the tennis game.
"You want them to be able to build that team camaraderie, but then you also want them to be able to learn how to compete on their own and to be able to take the wins and losses on their own," Gromko said. 
The team's next match is April 13 away against Littleton High School.
"This season has been going amazing so far for everyone," freshman Kenzie Ross said. "I'm excited to keep playing."
Leave a Comment