The Best High School Lunch Spots in Conifer
Every day, upperclassmen from Conifer High School gather in the parking lots around 11am, pile into each other's cars and head off to grab their lunch.
But, once you get into the car, you gotta ask yourself some questions.  How much are you willing to spend?  What kind of food do you want?  How much time do you have and how far are you willing to go? All of these factors are important to you,  so what are you gonna do?
You'll read this review, because in it I will lay out the options for you to let you determine what's best.  I'll be taking into account factors such as location, cost, quality of food, quality of service, and speed of service, providing an overall ranking on a simple 1-10 number scale.
Safeway: 9.2/10
Safeway is – while normally unimpressive to the average date night or other formal event – the pinnacle of lunch locations within Conifer.  Safeway offers the local upperclassman the ability to pick and choose whatever it is they want for lunch that day.  Popular picks among the student body involve a pound of boneless chicken wings, select pastries, and certain kinds of candies.  Along with the wide selection of food, Safeway offers affordable prices and deals.  Additionally, being a Safeway member entitles you to a variety of great deals that can help high schoolers pinching pennies save just a little bit more.
Pros: Good location, good value, fantastic options
Cons: Potentially long wait lines through self checkout
Subway: 8.7/10
Located only a short four minute drive from the school, Subway reigns supreme as the closest and safest option for those in a hurry, or even those looking to have a sit down meal.  While Subway may not be fine dining it certainly gets the job done, offering a wide variety of customizable sandwich options.  If you find yourself not enjoying your sandwich, it's likely your own fault. While the food may be affordable, it isn't quite as affordable as Safeway, so that dings it down a bit. 
Pros: Excellent location, good food, dine in experience 
Cons: Easy to spend more than 10 dollars a meal, occasional long line
Sonic: 8.3/10
Sonic is Conifer's pride and joy fast food hotspot, offering everything the usual burger joint would.  Located close to Safeway, Sonic offers a decent selection of food.  While Sonic may be deemed fast food, the service isn't all that fast all the time, and going through the drive-through can often be a bit of a gamble if the line is long. Sonic also isn't the most affordable option within Conifer, and it can be easy to spend much more than you initially intended.
Pros: Close-ish proximity to the school, good tasting food
Cons: Can have a long wait, occasionally expensive 
Qdoba: 8.2/10
As Conifer's tried and true corporate burrito joint, Qdoba sits just below Sonic, and only because of its location.  Qdoba offers good food that'll fill you up for a  decent price. The only downside to Qdoba is its location, being a seven minute drive away from the school.  If you wanna go to Qdoba, you gotta get in your car and leave pretty quickly after the bell, hope the line isn't long, and be a good one handed driver as the other hand shoves a hot steaming burrito into your mouth (or you get the burrito bowl cause you're a troglodyte and eat it in class.)
Pros: Really good food if you're a fan of (fast food) burritos, usually quick service
Cons: Long drive away, line can get long at times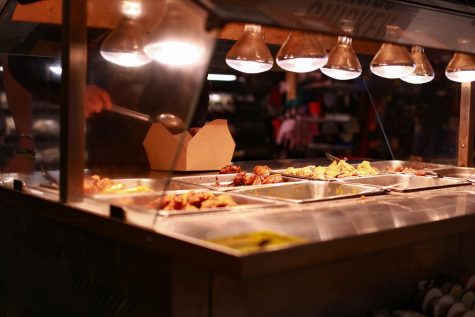 King Soopers: 7.8/10
Akin to its competitor, Kings offers many of the same types of food available for purchase (albeit, it doesn't have chicken like Safeway does), and it also has a members rewards program, so you can end up saving more money than your average fast food place.  However, there's simply just no good reason to pick King Soopers over Safeway, as Kings is twice as far away compared to Safeway.  While it may be a good option, you're just better off heading to Safeway and saving your gas.
Pros: Good food choices, easy to save money
Cons: Safeway does everything better, and usually for cheaper 
Golden Stix: 7.6/10
Golden Stix is Conifer's sole chinese spot, and has some community favorite dishes such as the classic sesame chicken.  Golden Stix offers a large amount of food at a relatively affordable price.  However, despite the hype, there are some glaring issues such as its location and the ease of being able to eat it.  Located the farthest away from Conifer, Golden Stix is on average an eight minute drive away.  To make things worse you can't just walk in and order without being late for school, you're gonna have to call ahead while in your previous class to make sure the order is complete on time.  Once you have your hot takeout, you need to hurry back to the school.  This means you're stuck holding a hot pile of Chinese food in a thin styrofoam container on your lap as you speed your way back to the high school, which means you aren't eating that lovely meal until you're at your next class.
Pros: Probably the best food on this list, very nice staff, very filling for the price
Cons: Farthest location away, very long wait times, almost guaranteed you have to eat in class
Wendy's: 7.5/10
While Wendy's may taste good and hold some value over its big fast food competition within Conifer – that being Sonic – Wendy's isn't always worth it.  Located the second farthest location from any lunch spot within Conifer, Wendy's provides good tasting food at an absurdly high cost.  Oftentimes you can end up paying $13 dollars for a meal that should be worth more like $9 or $10 dollars, but typically your best bet is going straight for the nuggets.  Chicken nuggets are a popular pick here, as they're one of the cheapest and most filling options here, however if what you're craving is a burger you're better off just going to Sonic.
Pros: Chicken nuggets, good tasting food
Cons: Very far away, common to encounter slow service, exceptionally overpriced
Dutch Bros: 6/10
For the "I'm not hungry but still want to spend money" person, Dutch is the spot for you.  Located exceptionally close to the school, Dutch provides some of the best drinks within Conifer, despite being fairly expensive.  No food is offered here, thus the big ding, and the lines can get weirdly long, though they usually move  fairly fast.
Pros: Some of the best drinks in Conifer
Cons: If you want anything other than Coffee or Hot Chocolate you're better off elsewhere, Expensive
What is your favorite Conifer lunch spot?
Sorry, there was an error loading this poll.
Starbucks: 5.8/10
Ranked just below Dutch and the lowest on this list, Starbucks holds the title of the worst lunch spot within Conifer.  Service often takes exceptionally long as most locations only have one or two staff working at any given time, the drinks aren't any better than Dutch Bros and they can often cost about the same.  The only thing Starbucks has that the Dutch hasn't got is the food, but the food they do have is ridiculously overpriced and not worth your money.  You're better off saving money and skipping that cake pop.  
Pros: Located within Safeway
Cons: Overpriced, slow service
Leave a Comment