Lobos Lose the Crown to Evergreen
Conifer's Boys Wrestling team lost a close dual against Evergreen High School on the last home match up of the season.
The Conifer Boys Wrestling team lost the King of the Mountain home dual against Evergreen High School on February 2, 36-45.
"We were kind of playing the underdog, [with a] forfeit in five weights so it was kinda gonna be a tough path for us anyways," head coach Nick Adamson said.
Conifer held a 30-21 lead with only a few rounds left in the dual, but despite the lead, Evergreen came in late with three forfeits, tallying themselves up to 45 points.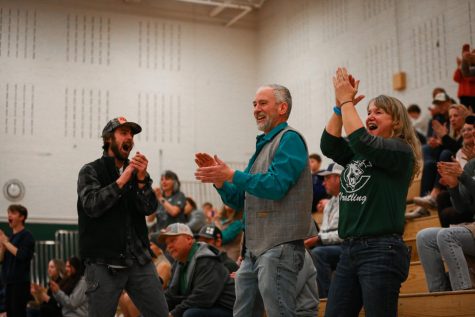 A large majority of Evergreen's wins stemmed from their forfeits.  Forfeits are a big weakness for the Lobos, as the lack of numbers on the team means that often they're faced with holes in their weight classes, and an automatic loss of 6 points to the opposing team.
"There were a lot of forfeits that contributed to it, they have a lot more guys than we do," Junior Tristan Swanson said.
Adamson notes that this kind of performance is largely unheard of, considering Evergreen's history of having a well accredited wrestling program, and Conifer being only on year two of its own program.
"It's great to watch them here, and it's nice to see that the community has grown," former Lobos Wrestler Tristan Wolf said.
The match was  the last home game for the Lobos wrestling team, and  senior night.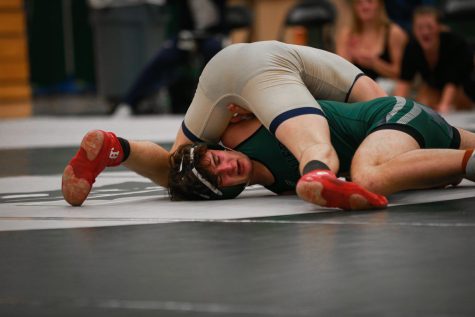 Senior Jacob Reynolds, who's spent two years with the program, admitted he felt the pressure of the night.
"No matter what, I didn't care if I broke an arm, or if I bled or sweat, I was gonna win this match no matter what," Reynolds said. 
Reynolds won his own match without much struggle after holding his opponent in a "half nelson" maneuver, even drawing blood against his Evergreen opponent.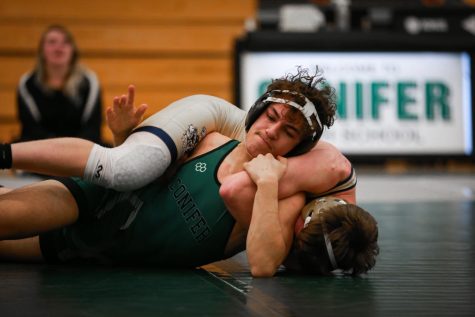 Senior Jack Fetzer, who is currently ranked 7th in 3A for the 144 lbs division, will be making a run for the podium at state this year.  
Fetzer won his match in a mere 60 seconds, marking the match over hardly before it had begun.
"It felt awesome, there's no other feeling," Fetzer said.
The Lobos look ahead to their League Championships meet, today, February 3rd at Golden High School.
Leave a Comment