Conifer High student Alexis Cardinal remembered for her empathy, joy
Cardinal, 15, died due to a seizure caused by epilepsy on Dec. 16
Conifer High School sophomore Alexis Cardinal was known for her contagious smile and love for singing and dancing. She was a member of the school choir, theater program and poms team, and is remembered by teachers for her empathy.
Cardinal, 15, died of Sudden Unexpected Death in Epilepsy — or SUDEP — on Dec. 16. She was born on Sept. 2, 2007 and had seizures from the time she was 4 years old. 
"Throughout Alexis's 11 years of seizures, she never once complained. She may have gotten annoyed, but she never complained," said her mom Karen Wagner during a celebration of life service held for Cardinal on Jan. 8. 
A ceremony to honor Cardinal will also be held on Jan. 11 in the CHS gym after the Girls Varsity Basketball game, which begins at 5:30 p.m.
Cardinal was active in the school and broader Conifer community. She learned many styles of dance, from aerial to jazz, at Conifer's Peak Academy of Dance, but had a particularly strong bond with the high school's poms team.
"She would walk into poms practice and immediately have fun," said Breeana Leslie, a freshman and member of the poms team. "She had this sweet energy that made everyone smile. Every single time I would walk off the field or court after doing a dance she was the person who made me feel good about it."
Cardinal was close with her family. Her aunt and uncle called her "lucky ducky," for the way she would stick her head out of the car window on family hunting trips, ducking whenever a branch came too close. Each summer Cardinal went to hunting camp, despite being a vegetarian.
"She didn't like that we harvested animals," Wagner said during Cardinal's celebration of life.  "It made her cry. She didn't understand it, but what she did know is we as a family enjoyed it and she got to hang out in the outdoors and make memories with the ones she loved."
Cardinal was especially close with her mom, and Wagner described how Cardinal would call her in the middle of the school day to share a funny story or check in. Cardinal's friendliness and love for animals helped her make instant connections with classmates and teachers. 
"Alexis was one of those kids that loved to talk to teachers… Everything I know about guinea pigs is from her. She was just a bundle of energy, a bundle of joy," said Michael Fisher, her middle school history teacher.
Cardinal's friends remember the way she was always trying to take care of them by asking about their days or buying them food.
"When other people were going through things she was always there for them. She was very empathetic, and she was always willing to sit and listen and give people hugs," said Kreg Kastelz, Cardinal's youth pastor.
Poms team captain Ysabella Bellotti remembers Cardinal's work ethic, and the giant silver hoop earrings she wore to every practice, regardless of the jumps or dances the team was doing.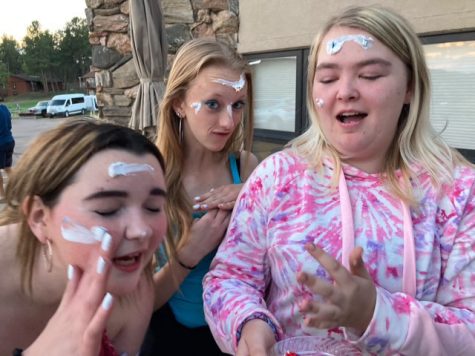 "The last few months we were really close," senior Devynitye Carroll said. "She looked up at me one day and she's like, 'you're my big sister'… she was not my friend, she was my family. She was my little sister, and I look at pictures of her and that's all I see anymore."
Cardinal shared her joy with many during her life. At her celebration of life friends and family, clad in purple, the color of epilepsy awareness, gathered to share memories. Many people talked about Cardinal's love of music. She loved Elvis and Selena, but her favorite song was Great Balls of Fire by Jerry Lee Lewis, which was played as attendees were asked to exit her celebration of life dancing.
"I will miss her with every breath I take, but I'm thankful for those 15 years that I did get," Wagner said.
To support other families fighting epilepsy, donations can be sent to the Chelsea Hutchison Foundation.
View Comments (1)