A Safe Alternative?
An understaffed bus barn is causing issues for students and staff at Conifer High School.
Many parents work and need a safe alternative to get their kid to school. What happens if the "safe alternative" is not safe?
"I don't even live at the highest point on my mountain and it's already an hour, sometimes more, of a walk uphill," freshman Enji Jensen said. 
Parents expect their children to get to school safely when they put them on the bus. However, loud and overcrowded buses caused by a driver shortage pose serious risks to student safety.
Sophomore Sofia Marina, an exchange student from Spain, talked about riding on an overcrowded bus in Conifer. She observed kids sitting on the floor and "screaming and talking too loud."
"Our buses are probably 10 times safer [in Spain], because there's like two people sitting in one row. The buses are much cleaner, too, and the drivers drive carefully. Not like here," Marina said. 
A bus has safety measures to protect the occupants inside in case of an accident, and a student that is not in the correct place will not be protected.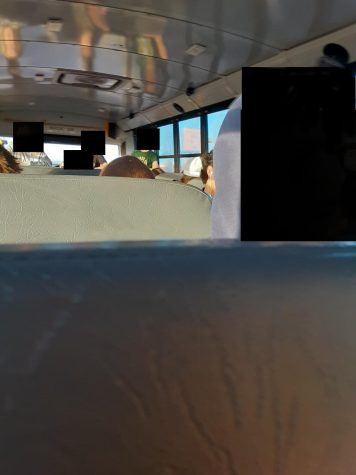 A bus seat is meant to "contain the child in a cushioned compartment," Angleton Independent School District said. This makes it so in the event of an accident, the child will have "only a minimum amount of space between the energy-absorbing surfaces."
Not all of the problems caused by the driver shortage are found inside of the buses, however. 
Jensen rides a bus that doesn't get very close to his home. The route up his mountain was canceled because of the driver shortage and the bus now only goes to the base of the mountain. The canceled routes are in rural areas, as fewer kids ride those buses. The kids walk along mountain roads with almost no people around, and in the morning, it is pitch black.
The understaffed bus barn has been causing inconvenience for more than the student riders, such as the office staff at Conifer High School.
"Since they have consolidated routes, they're not 100% sure that there's room on the bus for an extra person," Principal's Secretary Annie Wesselhoff said. Wesselhoff says it's not a huge issue, but five to eight students ask to go home with friends every week, and calling the bus barn has become an inconvenience.
West terminal director Josie Gallagher talks about how the shortage affects them at the bus barn. The bus routes are longer as many have been combined and some routes have been canceled altogether. Special needs students are now having more trouble with the bus, as there is less being done to accommodate them. The barn used to run 52 routes, now they run 19. To run at full capacity Gallagher would need to staff 25 drivers.
Up in the mountains, there is less and less affordable housing and living off of a drivers salary does not go far in Conifer. The barn is less able to find people that want a flexible and easy job, because it no longer pays the bills. 
"The times have changed," Gallagher said. 
Driving a bus is not the most desirable job as of right now as other jobs have less training, less requirements, and higher pay. 
"I have only hired two people in the last year and a half while I used to pull in 25 employees a summer," Gallagher said.
Leave a Comment