The Legacy of Ed Doyle, Boy's Tennis Coach
Boy's tennis coach, Ed Doyle, passed away last summer, leaving the team without a coach for the upcoming season.
The boy's tennis coach, Ed Doyle, passed away in mid-June last summer leaving the team without a coach for the season. While working through the loss of the coach, the team tried to get back together and play. This quickly became impossible without a coach, and the team only had two options left. Play for another team or quit.
While the option of playing for another team became available, it was not as easily accessible. Some students were forced to drop tennis altogether due to these changes. This was difficult and overall led to a problem for many of the students who played tennis.
Parents were "disappointed" in how the search for a new coach was going.  
"Knowing what I know, as we gather information, that there are other teams with less players on there," parent Marilou Frye said. 
She is a parent of a boys tennis player who had to quit tennis due to not being able to make it to practices at another school.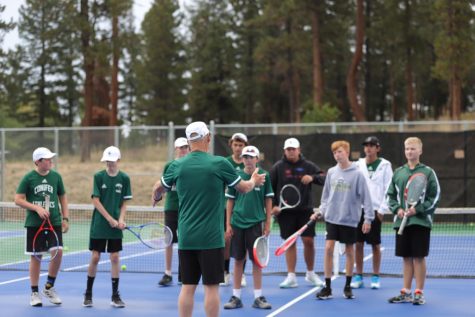 "But I think more effort needs to be put into, y'know, finding a coach," Frye said.
Concerned parents continue to have to question the effort of the sports administration, and have been getting little to no replies. The athletic director Eric Kragel was able to shed some light on the behind-the-scenes of this issue. 
"They call down to the district …they ask the numbers I said right now we had six people signed up. And they said well, you know, you should have made those eight at least or 12. I can't remember offhand…there are some teams with less people, which I didn't know," Kragel said.  
The main issue at this point was finding a new coach. 
 "We're just working on the process of finding a qualified coach, finding people who could help them if they could do part-time," Kragel said.
The issue remains, but the search is still ongoing to find a new coach. Kragel isn't the only one looking for a new coach, as many people are concerned about this issue. Students are also on the search for a  new coach.
"So we're thinking that Mrs. Anderson is going to coach because she plays tennis and she usually would hit with us but I'm still in communication with our old like, female coach," senior grader Gabrielle Book said. "I had no luck finding them [Boys Tennis] a coach."
While there may not be a solution yet, there is progress being made. This wouldn't be possible without the effort of everyone trying to not let this sport meet an untimely end at Conifer High School.
Leave a Comment