Young musicians open for Evergreen Lake Concerts
Concert opening acts spotlight mountain area musicians under 25 years old
Special to the Canyon Courier
Raedi Danielson has been coming to Evergreen Lake concerts for as long as she can remember. They have helped foster her love of music. That's part of why it's such a big deal that Danielson will be performing at the concert on July 20.
The other part is that Danielson is only 15.
Ten musicians under the age of 25 will open for the concert series this summer, bringing a new generation of music lovers to Evergreen's biggest stage. The performers earned the opportunity by winning local talent competitions, Evergreen's Got Talent and 285's Got Talent, which were open to musicians under 25. 
Two 30-minute sets will be played before three of the four concerts this summer, but there is more to these musicians than what you will hear on stage. These are their stories.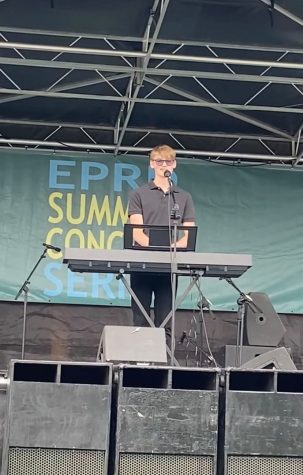 Bryce Merrill is 17 and will be a senior at Conifer High School in the fall. He performed at the first Evergreen Lake Concert of the year on June 22 with a host of original songs, despite only beginning to write his own music a year and a half ago.
"I was kind of lost on what I should do next [with music]", Merrill said, "but then I saw this talent show and thought I'd give it a try." 
Merrill's songs take inspiration from his life, and though he admits that they tend to have a sad tone he feels that music isn't valuable unless there is meaning or feeling behind it. When songwriting, he waits until he feels a "spark," and then builds the song from there.
"Sometimes it takes four days, and sometimes it takes eight minutes," Merrill said.
The lake concert was the first time Merrill has performed without a music teacher or friends to back him up, and he took it as an opportunity to embrace that nervous-excited nausea that seems to fuel performers.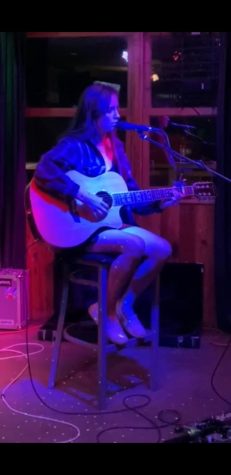 Danielle Faller started singing in her elementary school choir, the shower and the car. Now 24, she performs original music influenced by the folk-indie genre and covers songs by artists like Bob Dylan and The Beatles. She played at the June 22 Lake Concert, a big leap from her first open mic night a year ago. 
"I heard music coming from my house in Denver one night, followed the sound to a little cafe on the corner and discovered it was an open mic night," Faller said. The next week, she put her name on the sign up sheet. "It was terrifying, but a good kind of terrifying," Faller said.
Faller taught herself to play the guitar in 2016 and started writing her own music two years ago as a way to reflect on her lived experiences, building lyrics in the notepad of her phone.
"If I can make someone feel more alive, more human, less alone, or give someone the courage to tell someone else they love them, then I have succeeded," Faller said.
Faller is working on creating an album of her music right now, the beginning of fulfilling a lifelong dream of pursuing music for a living.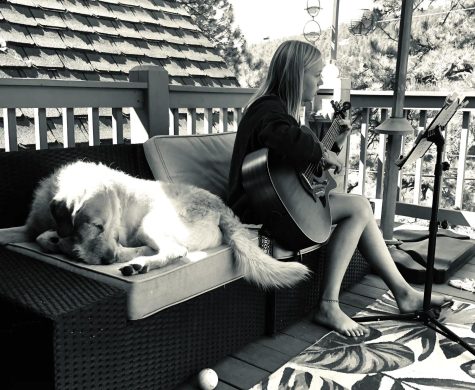 Raedi Danielson (15) will be the youngest performer on the stage this summer when she opens for the July 20 concert. She adapts covers of songs to suit her style and voice, but also performs some of her own music.
"I'm always creating, and I love the arts," Danielson said. "[Music] has always been a part of me."
Danielson has grown up going to lake concerts with her family and friends, and in many ways her upcoming performance is a passing of the gauntlet.
"I watched my own guitar teacher perform up there, and now it's my turn," Danielson said. She has been playing guitar for four years, and hopes to play with a band in the future. For Danielson music is valuable for much more than entertainment. 
"I've always been inspired by the impact music has on the world,"Danielson said. She talked about how every time period has music that reflects its unique nature, and how the medium can be used to bring people together and spark change.
"I definitely want to be able to play for the rest of my life," Danielson said.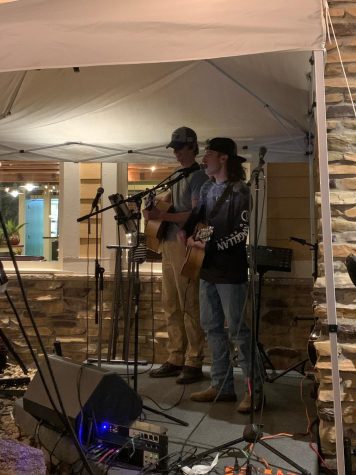 Jax Jordening and Jeb Barber are a country western duo from Conifer. They are performing at the July 20 Lake Concert, but even at only 17 and 18 years old they are no strangers to performing in the mountain area, and frequent open mics and bar venues both together and by themselves. The group performs covers and original songs, but focuses on keeping a classic country sound in their music.
"My favorite part of performing is doing what I love with my best friend," Barber said.
The duo sings and plays guitar, working together to tweak songs and get creative with their performance and make it more engaging for the audience. Performing is more than just fun for the duo, though. Their music is born out of a passion for the art form, though it hasn't always been this way.
"Before I learned guitar, I hated playing music, and I was really mad at my mom when she signed me up for lessons," Barber said. "But right after my first lesson, I knew that I loved playing music. Guitar soon consumed a lot of my time, and my love for music continues to grow the more I play."
Jordening's story is similar. He has been playing guitar since he was six, but took two years off and fell back in love with the craft when it helped him get through difficult times.
The duo is currently working with local producers to publish their music on streaming platforms, and are passionate about pursuing music in the future.
Jordening has two favorite parts of performing. The first is the audience reacting to his music. The second is when they aren't listening at all.
"When people aren't paying attention, me and Jeb can just do what we want and have fun on that stage," Jordening said.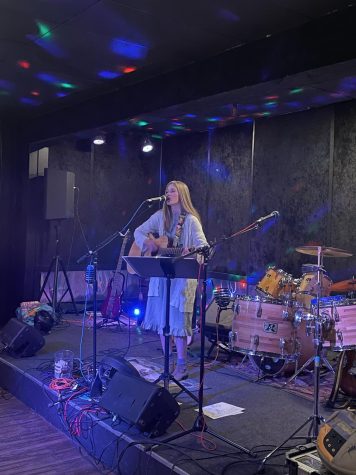 Keagan Lafferty was given a pink iPod nano when she was six, with Taylor Swift's first two albums downloaded onto it, and immediately fell in love. Now 18, Lafferty will open for the August 10 Lake Concert. She is still influenced by Taylor Swift, and will perform a set of all original music that draws from folk, americana, country, and pop genres. Though Lafferty has been singing since her iPod nano days, she only learned to play the guitar while at home during the pandemic, which enabled her to begin producing her own music.
  "I attended my first open mic in Evergreen as quarantine was ending, and it was such a surreal experience," Lafferty said. "I hadn't shared my music much until then, and seeing a positive reaction from the audience was really special."
Lafferty just graduated from Conifer High School and will be attending the University of Vermont in the fall to study music technology and music business. Though she isn't sure whether she will end up as a songwriter, manager, or other job in the music industry, she knows that music in some form is in her future. 
 "I just want to be surrounded by people who love music as much as I do," Lafferty said.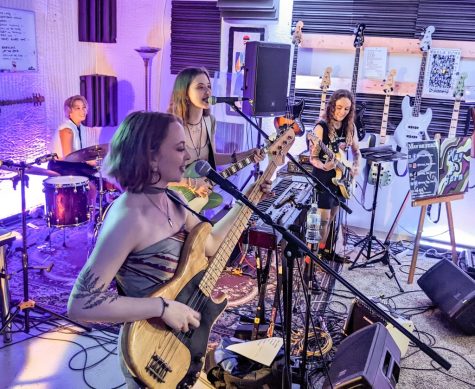 May Be Fern has only been together for five months, but already has four hours of music in their arsenal. The four piece band started by Hannah May and Kate Fern focuses on rock and funk pop, but also explores a number of other genres. They will open for the August 10 Lake Concert.
"There will be a lot of rocking out and Kate's dad jokes," May said.
The band is working on picking their favorite songs for the concert right now and tightening transitions or making medleys of their songs to perfect their sound. Though they are young, the band has hit the ground running. May and Fern met through mutual friends and have been playing together for about a year.
"[Kate and I] instantly clicked because she is amazing at harmonies, and she had just picked up bass that day," May said.
The two musicians performed as a duo for a while. Both sing, May plays keyboard and guitar and Fern plays Bass Guitar. It wasn't long, though, before they wanted to take their music to the next level.
"Right when we started having those hopes and dreams of adding members our guitarist messaged Kate on Instagram," May said.
The timing was perfect. Lead guitarist Madi Spillman joined the band, soon to be followed by drummer Carleen Jeffers.
"We got to know each other and it was an instant match," May said.
The band mainly performs covers of songs, but is in the process of replacing their covers with original music, practicing four to six hours three times a week.
"We practice more than any other band I know," May said.
Leave a Comment