When bare feet bear a burden
Upcoming Barefoot Mile fundraiser to raise money to combat child trafficking
Special to the Canyon Courier
On July 20, Dr. Jeff Brodsky will have been barefoot for 12 years. No shoes. No socks. Ever. He's been barefoot in Africa at 110 degrees and in Alaska at -19 degrees, all in the name of fighting child trafficking.
"If my going barefoot will motivate just one person to action in a way that helps to rescue even one more child, I will live barefoot the rest of my life," Brodsky said.
Brodsky is the president and founder of JOY International, a nonprofit organization based in Bailey that trains law enforcement, educates community members and intervenes in child trafficking around the world.
The nonprofit is funded exclusively by donations, and its Barefoot Mile fundraiser plays a huge role in fundraising.
Upcoming fundraisers on July 23 in Littleton and Longmont and Aug. 27 in Marshdale will benefit the organization. Attendees will walk a mile barefoot in solidarity with impoverished and trafficked children to raise funds for JOY International. Registration for the event can be found at thebarefootmile.org.
"I hate asking people for money, but I do what I hate to accomplish what I love, which is to see captives and those in bondage set free," Brodsky said.
On July 14, Brodsky spoke in Evergreen about his work. While only 10 people attended, the empty seats didn't faze him.
"I've spoken to groups of one and I've spoken to groups of over 10,000," Brodsky said. "I have an agreement with God that I never speak to empty chairs. Every empty chair he fills with an angel."
For Brodsky, religion is at the core of his work. As a Messianic Jew, his fight against child trafficking was inspired by a desire to serve God, but he emphasizes that it doesn't matter what you believe if you have a desire to do good.
Brodsky has spoken and traveled to 77 countries in the 41 years since he founded JOY International. In this time he has seen firsthand the horrific circumstances that make his work necessary, from the barefoot children living in a garbage dump in Cambodia that inspired him to go barefoot in solidarity to children being sold by their parents.
Brodsky does not let these moments discourage him, though. He continues to look to the future, planning JOY International's next projects and celebrating the good the organization has already done.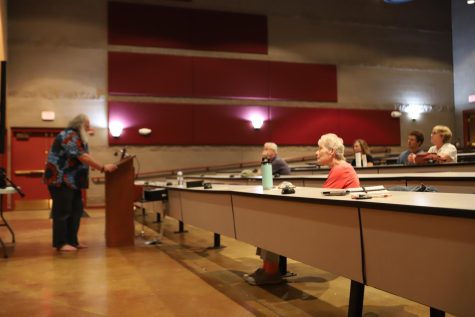 "This, to me, is the greatest sound on earth," Brodsky said, playing a video of children laughing and playing in the water from a new well JOY International funded in their village, eliminating the need for them to walk 10 miles each day along a dangerous route for water.
"The joy on their faces over something that we did — we can't measure that. Moments like that make all the hard times worth it," Brodsky said.
The nonprofit has rescued over 3,000 children, teens and young women, and funded programs that continue to aid many other children who are at risk.
"Ten years ago, if you would have asked me, 'What's going to happen to JOY International when Dr. Jeff Brodsky dies,' I would have said that it dies with me. Not anymore," Brodsky said.
As the organization continues to grow and become a larger force in the fight against human trafficking, Brodsky has high hopes for its future. Though he will turn 70 next month, retirement is not on the table.
"As long as I can walk and talk, then I'll continue to do this until I take my last breath. How could I not?" Brodsky said.
For updates on JOY International's current work, text "JOY" to 42828. More information about the nonprofit can be found at joy.org.
View Comments (2)