INSPIRE-ing opportunities for all
Evergreen Parks and Recreation program provides social and recreational opportunities for community members with disabilities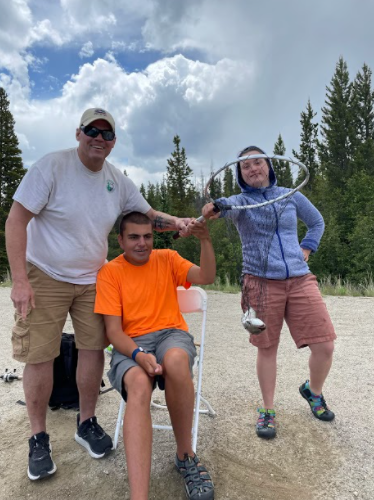 Special to Colorado Community Media
"I can't believe I just did it," Special Olympian Jamie Milligan thought after finishing her triathlon. She completed a 440-yard swim, 10.8-mile bike ride and a 5K run back-to-back in June at the 2022 Special Olympics USA Games in Orlando, Florida.
Milligan's journey to the games required daily training, coaching and a whole lot of grit, but her national success started locally.
Milligan, 27 is a member of the INSPIRE program, which is run through the Evergreen Parks and Recreation District. The program provides social and recreational opportunities for people with disabilities ages five and up, and helped Milligan get to the Special Olympics.
"We just like to keep everyone busy and active and having peers," EPRD Special Populations coordinator Maren Schreiber said. "That's what it's all about for us: having a friend."
Milligan has made some of her closest friends in the program, participating not only in the Special Olympics opportunities but also in some of INSPIRE's many other offerings.
INSPIRE offers different sports teams, from bowling to track and field. It also provides adaptive equipment and works with other organizations, so members can participate in activities like horseback riding, skiing and rock climbing.
"I think sometimes when families have a young child with a disability, they are afraid to give them wings — and then they come to our program," Schreiber said. "My staff is great about getting them to do things that people think they would never be able to do."
At INSPIRE summer camps, the program mixes recreational opportunities with outings to movies or museums. Schreiber believes that the program's flexibility is one thing that makes it unique. If a participant wants to attend a specific event, the program coordinators will do their best to make it happen.
When Schreiber started the INSPIRE program 25 years ago, she had no idea how popular it would be.
"My boss at the time was like, 'Sure, you can try it out, but I'm not sure there'll be enough people,'" Schreiber said.
The program's first day camp had five participants, but today there are 107 members and as many as 25 people attending camps daily. Schreiber has seen firsthand how her program is benefitting participants.
"I have a young man who is on the autism spectrum, and he first came [to INSPIRE] when he was five. He's studying now for the bar exam to be a lawyer. He amazed everyone," Schreiber said.
INSPIRE is helping members be active, have new experiences and build a community. They transport their participants to events and employ many staff members so all participants have their needs met, but this can be expensive. The community has stepped up to help the program financially.
"We wouldn't be able to do it without them, and the amount of support they give INSPIRE is just a true gift to so many people with disabilities," Schreiber said.
The program's next fundraiser is the Andy Smith Sr. Golf Tournament on July 18. INSPIRE is still looking for donations, sponsors and door prizes.
For more information on donating or participating in INSPIRE programs, Maren Schreiber can be reached at [email protected].
View Comments(1)