Ukranian Former CHS Exchange Student Discusses War
 When Olesya Tretyak came to Conifer High School in the 2014-2015 school year she ran on the cross country team. She went skiing with her exchange family. Now, back home in Ukraine, she is in the middle of a war.
Tretyak, now 21, lives in Lviv, a city in western Ukraine near Poland. Though it is far from the warfront the city has not been spared from conflict. On March 26 the city was hit by two rockets that destroyed a depot providing fuel to Ukranian soldiers, only a day after Russia claimed that they were shifting their attention to eastern Ukraine's disputed territories.
Conifer resident Lori Vaclavik hosted Tretyak during her exchange year in Colorado. The previous year she hosted a student from Russia, which makes it difficult for her to see the innocent people caught on both sides of the war.
"Other than the countries from which they came the two girls had much in common, and they both desired a future in a peaceful country," Vaclavik said.
For Tretyak, though, that peace is still distant. She wrote about her experience in a letter to our student media program, which is below. Our staff believes that it is best to hear about her experience in her own voice, and have not altered the letter.
…
As I am writing this it is the 9th of March 2022, the 14th day of the war in Ukraine. The 14th day of Russia bombarding my country, targeting civilians, schools, hospitals, and kids!
Let's go back in time, to the 23rd of February, a day before the war. Me and my boyfriend were looking at flats, planning to move in together. We just visited a potential apartment and were so excited to start this new chapter of our lives, towards which both of us have worked very hard. I went home feeling very happy and in anticipation. 
My mom woke me up around 7:30 in the morning, crying and saying that I should pack a bag and flee the country because the war has started. That our capital – Kyiv- as well as other cities are being bombarded. I couldn't quite register what was going on. How can one understand that there is a real WAR happening in the 21st century? With tanks, bombs, terror. You read about it the the history books, but it is impossible to comprehend that it can be happening in reality. To this day, I sometimes think that I will wake up and it all will be a terrible, terrible nightmare. It just feels so surreal.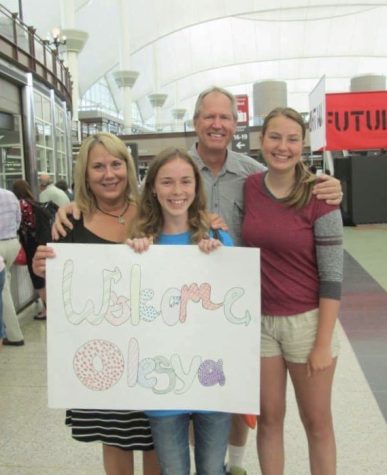 A good 10 minutes passed before I snapped out of my frozen state. I made a decision that I want to stay home and don't want to run. It's hard to say what the right decision should be in this situation. If I had kids – I would probably cross the border. But since my dad and my boyfriend expressed that they will not run and will fight if needed, me and my mother wanted to stay as well, to help with anything we can. I have a younger sister, but luckily she is currently in the US, doing an exchange year. She was the one who called my parents at 5:30 a. m. telling that the war has started (due to time difference she was the first to know)
And that morning, the 24th of February, was the scariest moment of my entire 21-year life.
The next days were like a blur – air alarm will go off a couple of times a day and night, and everyone will have to go hide in bomb shelters. I was scared to go to sleep, because for the first three days every time I closed my eyes the sirens would go off. I was unable to calmly take a shower, because than I would have to run to shelter with wet hair. (And winter is quite cold in Ukraine) Me and my friends would check if everyone heard the sirens, we would wake each other in the middle of the nights to hide. 
I live in the western part of Ukraine, near the border with Poland. East and center of my country are affected by Russian war the most. I might be frightened, but I am at home, I can have a hot meal. I cannot even start to imagine what terrors people go through, that are in the epicenter of bombarding, who have lost their homes. 
I am choosing to be strong. Yes, I am frightened and exhausted, but I choose to stay strong for my loved ones and my country. I am supporting the army financially as much as I can, I volunteer with supplying medicine to the eastern part of the country. I am trying to keep working, to support the economy, to pay taxes, so that we can win now and rebuild the ruins that Russia created after. 
Reading the news is scary. You know, how in Harry Potter, in the 7th book Ron was always listening to news. Was he hoping to hear anything positive? No, he was hoping not to hear anything negative. I am the same way right now, falling asleep and waking up with news. Civilian houses, cars, children, hospitals!!! All of them are being shot, bombarded, destroyed. Almost 100 kids died from 2 weeks of war. Countless are injured. Women are giving birth in bomb shelters! Why, why should anyone endure it? Why did Russia start this meaningless war, how can someone be so cruel? Every day I make a single wish – I want the war to stop. It will be hard afterwards, I know. I wouldn't be able to fulfill many of my plans. Some of them even sound silly now – moving out, traveling, getting a dog. I also sometimes feel the "survivor syndrome," blaming myself that I am at home, with my family, when some other Ukrainians are dying from dehydration, because Russians are not letting them leave through the "green corridors" and shooting them. But I try to chase those thoughts away and stay strong and useful in the ways I can. 
…
Resources for those looking to support people in Ukraine can be found here.
View Comments(1)