Holes in Bathroom Walls
Art students Emma Hoelsken, Yzzy Bellotti, and Sadie Bean-Osburn have received approval from administrators to create a new school mural in the middle floor girls bathroom.
Juniors Ysabella Bellotti, Sadie Bean-Osburn, and Sophomore Emma Hoelsken have started to create a portfolio for a new mural coming to Conifer High School. The three are AP and Advanced art students who are undertaking the project after a bathroom graffiti incident involving Bean-Osburn.
"What happened was one day I got really bored. So, I took a Sharpie and started drawing, right? Turns out the school didn't like that very much," Bean-Osburn said. "They were like, why don't you channel this into something more positive?"
So, Bean-Osburn decided to channel her art into a new mural for the school. She decided that the mural would be placed in the middle floor girls' bathroom. Then, she recruited two more students to help her build a portfolio to present to Principal Wesley Paxton for approval.
"This mural project is kind of insane, but Emma heard through the grapevine that [Bean-Osburn] was gonna be starting it. So that was when we started talking about ideas for it," Bellotti said. 
The mural has been designed so that it looks like there are holes in the wall that look into another universe. There will be "holes" in each of the stalls and there will also be cracks around the hand driers, sinks, and mirrors. This idea was inspired by a project Bellotti has been working on in her bedroom. 
"I've been painting a picture and then making it look like it's a portal to another dimension," Bellotti said.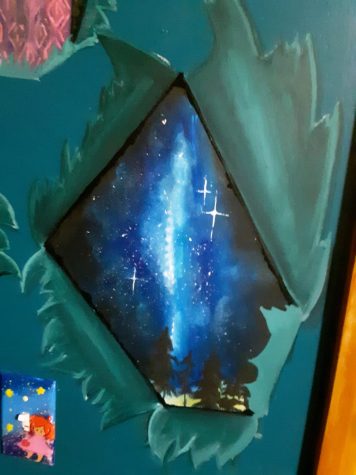 Each of them (Bellotti, Hoelsken, and Bean-Osburn) will take one stall each and individualize their portal based on what they envision. 
"When you walk into each stall there will be a hole in the wall effect, and within each stall there will be a different scene or different type of vision or drawing inside of this hole," Hoelsken said.
Hoelsken is planning on making her universe a serene tropical landscape. Bellotti plans on painting a skeleton astronaut in another dimension, featuring bright colors and floating mechanical whales. She also plans on adding floating stingrays to her piece.
"[The stingrays] have a little bit more of a meaning because my brother's name is Ray and my little sister used to call them stingray rays," Bellotti said.
Bean-Osburn is going to depict fantasy creatures and ghostly apparitions as she did in her first "mural" in the girls' bathroom. With this project, she hopes to supply the bathroom with beautiful art that can't be covered or painted over. Bean-Osburn is making a school-approved space for bathroom art that will facilitate a fun, colorful environment for students. 
"I always love graffiti art, like just walking into the bathroom and just seeing what different people wrote," Bean-Osburn said, "But it would always get painted over and I didn't like it when you would just cover things. I don't like it when art is just silenced."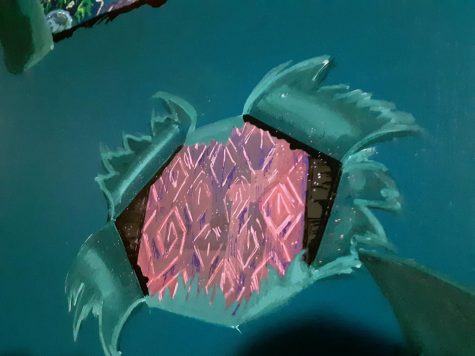 Leave a Comment