Wrestling With the Season Ahead
New CHS wrestling program is building the team from the ground up
This Monday, November 15th, marked the first official practice of the newly re-instated CHS wrestling program. 
"The big thing is laying the groundwork for the future and reestablishing the program," Head Coach Nick Adamson said. "We're definitely going to have some growing pains, but it's bringing back a storied program."
Conifer Wrestling has some big shoes to fill. In its height wrestling was one of the most prominent programs at Conifer, and the team was ranked as a perennial top 10 team. The team also was home to several state champions, the most recent of which was 2015's Bronson Spies, coached by Barry Himmelman. When Himmelman retired in 2015 the team was unable to continue. There have been a handful of unsuccessful soft starts to the team in the past five years, but this season, for the first time, Conifer Wrestling will return for a regular season.
"It's tough right now because we're essentially starting from scratch," Adamson said. 
As a coach building his team from the ground up, though, Adamson does not only plan to measure his success in matches won.
"What I'm trying to do here, above all, is reignite the culture," Adamson said. "One of my first markers that I'll look to is the general excitement level of the team. If they're 100% on board and they're excited to be there and they're motivated and ready to commit and push forwards… that's gonna be the first big step."
Adamson's passion for creating a strong team culture comes from a life spent wrestling.
"My dad was a high school wrestling coach for forever, so I've been in wrestling rooms literally since I could walk," Adamson said. 
He started competitively wrestling at five years old and wrestled all the way through college. For the past 20 years, Adamson has been coaching wrestling at a variety of levels.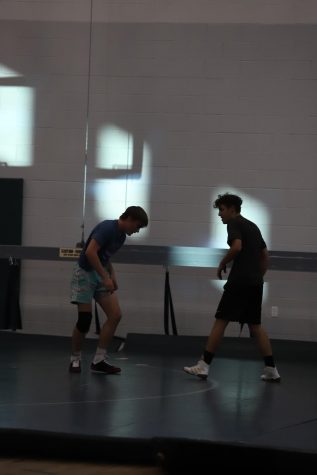 "Overall [my philosophy] is nothing new. I do think wrestling is unique versus a lot of other sports because you have a lot more personal responsibility in wrestling," Adamson said. "In other team sports, you have other teammates that you can lean on or blame if you need to. As a wrestler, you essentially have to wear it all."
The team will compete for the first time Friday, December 3rd, at a dual meet against Pueblo Central High School. More information about the team can be found on their Facebook page and registration information is located on the Conifer Athletic website.
"I like to put a lot of the responsibilities for the wrestlers' development on themselves," Adamson said. "It's gonna be good."
Leave a Comment