Season's end Brings Marching Band Sadness
On November 1, the Lobo Regiment went to competition at the state level and placed 6th in 2A. A few days later, on November 5, they had their last performance at a varsity football game, marking the end of the season. The band is made of a variety of students with varying experience levels.
"It kind of flew by. One day we were on the bus and it was really foggy and I'm talking with everyone, and the next thing you know, I'm going down the ugliest hill that leads you into Pueblo stadium, and it's like, 'oh we're doing this,'" Kendall Eurick said.
Eurick is a junior at CHS. This was their second year of marching band. Both years they have been in percussion, specifically pit, which can also be called front ensemble. They are stationary percussionists. This year was more stressful than their freshmen year, but they were also more involved.
"People were late, getting injured, and it was extremely frustrating to deal with because I wanted us to be good and I wanted us to be able to go to state and get into finals and I wanted us to do well," Eurick said. "I felt like we weren't going to get there with people being injured and being unable to march or play or whatever. We all came through in the end, though."
Unsurprisingly, the drop from being in the 3A size category to the 2A size category this year came with a lot of newer members. Many freshmen joined the band, including Fiona McDermid.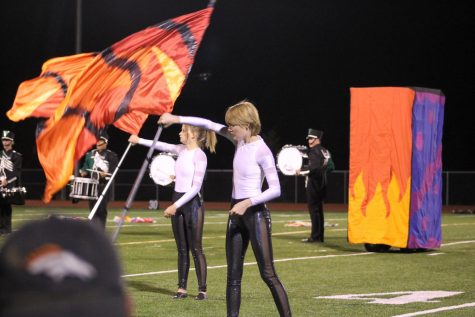 "I'm definitely really proud of our state performance and how we placed, but it's also sad that marching band is over. Suddenly, I have all this free time," McDermid said. "It's nice to have these connections, though, with people in the band. Like, 'oh there's someone I can wave to because I know them'."
As with any extra-curricular, community-based activity, it can be really hard to come to terms with the end of the season.
"The end of the season is kind of hitting me like a truck because I've come a lot closer and more attached to people this year. I thought the season was going to be weird, but it didn't feel weird. It felt like everything was where it's supposed to be," Eurick said.
November 5th was not only the last performance but it was also senior night for both the football team and for the band. This meant that all the seniors in both activities got to bring their parents to their last game or performance and show off and be recognized for their hard work. Allie Page is one senior out of the six who were honored that night.
"I'm really sad to be leaving Lobo Regiment. It means so much to me and it kind of showed me what I wanted to do for the rest of my life. I didn't know what I wanted to do. Now I'm going to be a band director and Lobo Regiment showed me that," Page said.
The band's entire performance can be seen here.
Leave a Comment