CHS is No Place for Hate
The Conifer High School No Place for Hate Coalition is aiming to become a No Place for Hate School by the end of the year.
The No Place for Hate Coalition, sponsored by Assistant Principal Cassie Alley, is a national organization that aims to create an inclusive and equitable school community. They meet during seminars and are still accepting membership; currently, they have around 5-6 core students. 
"We are a group of people working towards turning Conifer into a safe place, free of bullying and prejudice," senior, Channing Miller, said.
The group plans around three events/projects throughout the school year. Their first project will be the No Place for Hate pledge signing. For Conifer High School to become an official No Place for Hate community they have to get two-thirds of the student body to sign. These pledges will be hanging in most teachers' classrooms, and students will be asked to sign.
"Basically that pledge is saying a lot of different things talking about keeping hate and discriminatory actions outside of our school," junior, Jazz Hennes, said.
Alley said that No Place for Hate would also be working with the counseling department to set up Diversity Day, as well as working with the peer counselors on Day Without Hate. Diversity Day and Day Without Hate are events aimed at spreading acceptance and understanding to the student body. 
No Place for Hate is important to members because of the positive school environment that it promotes. Currently, over 1600 schools are involved in the No Place for Hate mission.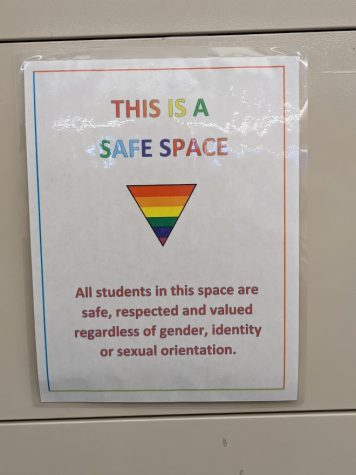 "What we really try to do is give our student body knowledge about anti-bias and anti-prejudice," Alley said.
The Coalition offers students the chance to work towards a better community at CHS.
"I really wanted to insert myself into this organization because I thought it could be a great way to not only connect people in our schools but also provide a safe place to people who might not get it at home," Miller said. 
Hennes said that they joined because they wanted to make sure that everyone in the student body felt valued, safe, and comfortable.
"As an LGBTQ+ person, I have been in places where I felt very unsafe and very unwanted, so that is what has driven me to join," Hennes said.
The No Place for Hate Coalition offers CHS the opportunity to better the school environment one signature at a time. 
"We want to make sure we can create and have our school, become a school where it is safe for everyone to say who they are, who they want to be, and be themselves in an everyday setting," Miller said.
Leave a Comment