Conifer Stays Undefeated
The Conifer Football Team Takes On Pueblo
     As the crowds form, cheering begins, and adrenaline builds- the Conifer High School football team gets ready to take on Pueblo Central. The team played on September 3rd, at Conifer High School.
     This was the football team's second game of the season, but their first home game. The team was eager to play and wanted to stay undefeated, after beating Skyview High School.
     The game immediately started with intense energy, Conifer scored first, however, Pueblo was able to take the lead. The Conifer team was able to stay focused, but the students at Conifer were focused on one person- Jared Dickson.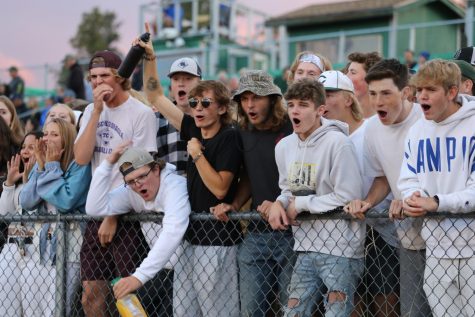 Sophomore Dickson has been playing football since his freshman year. His position is the placekicker, and he was the one who won the game. 
     It was in the final quarter of the game, the score was holding steady 7-6 with Pueblo in the lead. Conifer had the opportunity for a field goal, which is where Dickson came in.
     He made the goal, giving Conifer three new points for the lead. Conifer was then able to keep a strong defense until the end of the fourth quarter when Pueblo tried for their own field goal.
     "I feel amazing, it's awesome. It's a great feeling," Dickson said. "It was nerve-racking. I want to be the best I can be for the team."
     Dickson is following a legacy at Conifer. His older brother was once the placekicker for Conifer. 
     "I think it makes him proud. It makes me proud of myself for doing it," Dickson said. "He is the main influence of me being a kicker."
     Conifer won the game 9-7, keeping them undefeated. 
     The team is set to play next on September 10, against Glenwood Springs Highschool at Glenwood Springs.
View Comments (1)