Volleyball Returns: New Setup, Same Passion
Conifer faces the Fort Morgan Mustangs in the first game of the season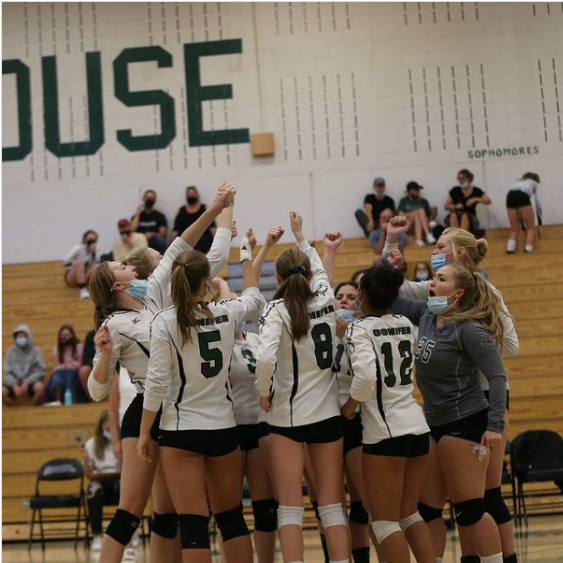 Bare skin squeals against the polished hardwoods as senior Marina Cadilli dives for the volleyball plummeting from above. Somehow, miraculously, she cups her fists beneath the white orb and sends it spiraling back over the net before crashing to the floor.
Conifer Volleyball had their first game of the season last Thursday at home against the Fort Morgan Mustangs, where the Varsity team lost, 1-3 sets, 12-25, 25-23, 18-25, and 21-25.
"This was the earliest we've ever had a match, let alone a home match," head coach Laurie Eddy said.
The team just had tryouts August 9th, so many aspects of their game are still in flux. Fans can anticipate an even better performance from the team in the future as they grow accustomed to playing together.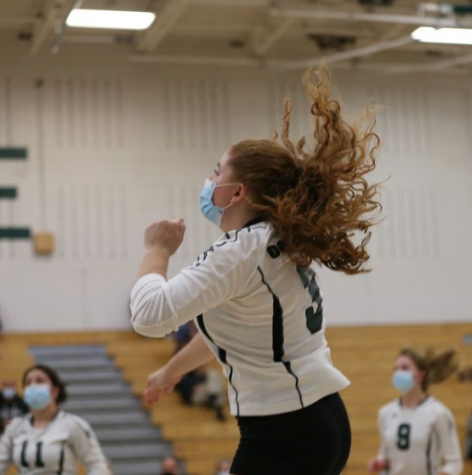 "That was a hard game," junior Devon Vanni said. "Fort Morgan has some really good defense. They got up almost every ball we hit, but I feel like we fought well. We had some good hits and some good defense- I think we just spaced out at the end."
The team will be working on their communication and placement in upcoming practices as they finalize team structure and strategy for the upcoming season.
"We're unsettled in a lot of positions," Eddy said. "I know some of the girls didn't get to play as much as they wanted, but we haven't decided who's going to be playing what position. I'm not even set on our offense."
The team alternated between a 5-1 and a 6-2 offensive setup over the course of the game. Part of this trial and error process is due to the graduation of several seniors that were key aspects of the team last year. The team has been forced to change their customary positions in order to fill the gaps left by these players.
"Marina Cadilli is normally our Libero," junior Cora Spencer said. "We only had one setter this year so she moved up to be another setter and I moved up to be Libero. We're having positions change around everywhere, so it's a big shift."
Despite the change Spencer has grown quickly accustomed to her new role on the team. Her strategic serve during the second match won the match for her team. She made the serve in question look effortless, but in reality this perfect moment was a long time in the making.
"Last year I had a club coach who kind of flipped around my serve. I lost my serve and could not serve for the life of me," Spencer said. "Going into the season and being able to get my serve back and winning the second match is really exciting."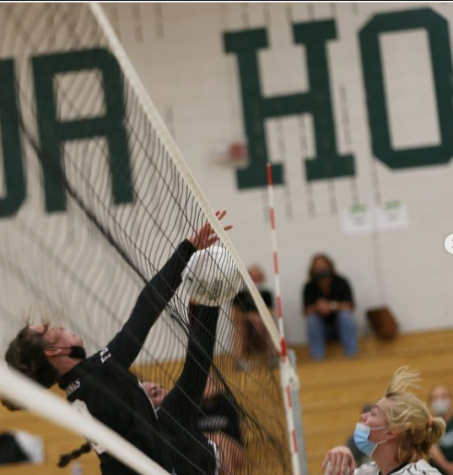 Spencer isn't the only player spectators should look out for this season. Senior Marina Cadilli is a returning three year Varsity starter, but this year will be a Setter instead of Libero.
"In some ways that's hurting us because she's our best defense and our best serve receiver, but she's a very capable setter and we needed another setter," Eddy said.
Two year returning varsity starter Elise Clark is another senior to look out for. Spectators should also be looking at the team's Juniors.
"Emily Gneuchtel and Devon Vanni bring so much firepower to the team, and the girls trust them very much because they are veterans," Eddy said.
Spectators were allowed at this game which greatly added to the atmosphere, though all players and spectators are still required to wear masks. The mask mandate didn't put a damper on the evening, though, as players and fans alike radiated energy.
"I challenged the team before the game to communicate like girls but play like guys," Eddy said, describing the way the girls were flexing and squaring up to one another jokingly between plays. "I don't know if you saw some of their cheers, but they were being all manly out there. That's the kind of stuff that builds memories."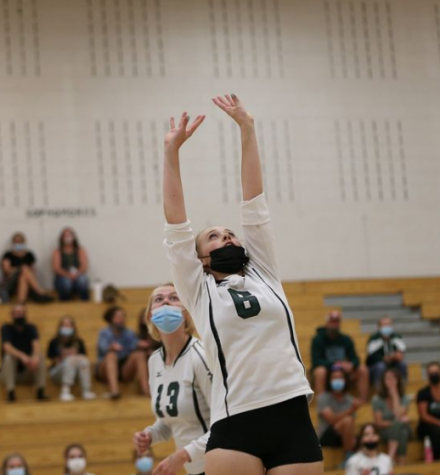 The team's next game is this Thursday, August 26th, at 6:30 against Pomona in the Competition Gym.
"Volleyball is such a team sport and you just can't hold on to mistakes because it's a game of mistakes," Eddy said. "Whoever makes the fewest mistakes wins. It's a good lesson for life- we all make mistakes, it's just about what we do with them."
Leave a Comment