The Bus-iness of Art
Traveling School Bus Studio brings art to mountain communities in Colorado
The wheels on the bus go round and round, seemingly unaware of the summer break that leaves other school buses vacant. This bus, however, is not taking kids to art class … it's bringing art class to them.
"In 2010, I was sleeping in a school bus that had been turned into a camper, and I was laying there thinking, 'Oh my gosh, I want to turn one of these school buses into a traveling art studio,' " Conifer resident and longtime art teacher Krista McKinnon said.
Today, a decade after first thinking of  the School Bus Studio, this dream has become a reality.
"
Think big. I didn't even know I could drive a bus."
— — KRISTA McKINNON, founder of the School Bus Studio
"I want to volunteer and give back to the community and the Denver Metro area," McKinnon said. "I want to be able to travel down to nursing homes, hospitals, boys and girls clubs — wherever the bus wants to go, we're gonna go and share a love for art."Leather seats have been replaced with work tables, a slide has been attached to the back exit, and sounds of joy fill the air. Kids at birthday parties and members of special-needs adult groups alike have used the bus. As the School Bus Studio recovers from COVID-19-related setbacks, however, these adventures are only the beginning.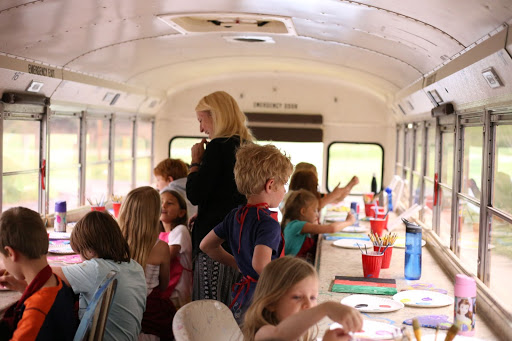 This summer the bus parked in front of a Colorado daycare, where elementary students eagerly clustered around tables packed with paint, canvases, and sculptures the students had made during a previous session in the bus.
"My favorite part was probably painting the clay," 8-year-old Reese said, grinning. "I love art. It's something calming and it's just fun to do."
McKinnon is leading these art workshops aboard the bus for the time being, but in the future she plans to take a backseat, allowing local youth to gain leadership skills as they volunteer and support the School Bus Studio as a nonprofit.
"I want the kids to be the teachers, so they're going to be pretty much running the bus," McKinnon said, imagining a team of "mini-me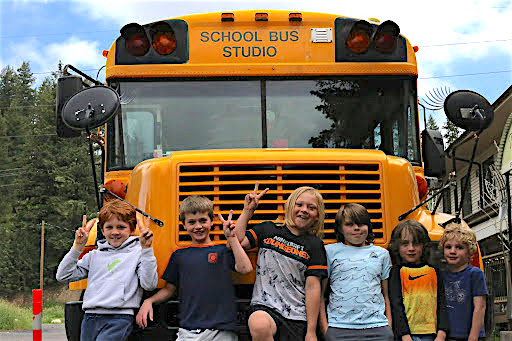 's" ready to help anyone the bus may visit by directing the creation of art projects.
As McKinnon drives her bus closer to bringing art to those in need, she is reminded of how far she has come.
"Think big. I didn't even know I could drive a bus," McKinnon said. "Follow your dreams and never give up."
(To learn more about the School Bus Studio or donate to their mission visit the organization's website.)
Leave a Comment