The Game has Potential!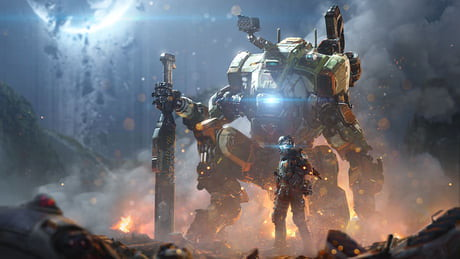 TitanFall 2 is a first person based shooter game that was developed by Respawn entertainment with the help of EA Sports. This game is the prequel to the original game, Titanfall, that has giant mech suits and a variety of weapons to offer. For the past 4 years however this game has only had 5 thousand to 6 thousand players online globally on different platforms. Despite the small player based community this game offers its fun and heartwarming and welcomes you with open arms to test your skills.
     Sophomore James Moran is a TitanFall 2 veteran and has been playing the game since its release, and feels that this game is too underrated for being so much fun.
     "I played Titanfall 1 before I even tried out Titanfall 2 and I loved the experience," Moran said. "Titanfall 1 has some of the same aspects as Titanfall 2 but for the most part Titanfall 2 has more variety in its gameplay."
     Because this game is 4 years old there is a small but committed base of Titanfall 2 players, Because the game is free on xbox game pass and steam there is now an even bigger player base coming to Titanfall 2's lobbies.
     "One thing that makes me a little annoyed with Respawn is that they don't even have the game free on Playstation plus yet, which is like xbox game pass," Moran said. "If Respawn and Playstation could do that, Titanfall 2 would be set for life by new players joining the community."
     With the new player base coming into Titanfall 2 there are some mishaps with the game and it's mechanics. With some of those mechanics come "broken" weapons + the mech suits, called "Titans" that veteran players get very annoyed about. 
     "Just dealing with that stuff sometimes makes me like, why? Why are some of these weapons still in the game?" Moran said.
     Moran, like all new players, knew about the weapons, titan and right class set up to use and give himself fair game in fights against new players. Moran knows all about what titans to really use for himself to enjoy.
     "My favorite thing about this game is really just the titans, they are SO fun to use and I could never get old of any of them," Moran said. "My favorite titans to use are either; Scorch, Ronin, or Northstar."
     The gameplay for Titanfall 2 that most players enjoy very much is the fast fun, and short time to kill aspect. Moran knows all about the movement in Titanfall and still tries to get in more practice.
     "Any day of the week when I'm at my dads I will try to at least get on a few times to play or just hang out with my friends," Moran said, "The graphics are amazing and the progression system is not boring like most games, this game is already way ahead of its time it just blows my mind."
     Since the 4 years of the games release the game has only been updated quite a few times trying to reel more players in but still gave more things to enjoy. One update even brought in a new titan named "monarch" which uses upgrades to improve itself on the battlefield.
     "Something I would like to see if the game ever did update again is releasing titan customization again like they did back in Titanfall 1," Moran said. "And something I think that could make Titanfall 2 popular again is balance the weapons or maybe try to promote it more."
     With the release of Titanfall 2 on steam and xbox game pass for free, the game has been advertised just a little. But to the community it still doesn't feel like enough, but even though Titanfall 2 has had less promotion others believe that this game has potential to be great again and has been one of the most underrated shooter games. 
     "This game will always hold a huge place in my heart, not because of its age or it's campaign. But because of the people who I have played it with and how this game was truly made with a little love and work," Moran said. "I love this game, and I hope others who try it love it as much as I do."
Leave a Comment